Kabèlè Camara does not recognize the victory of Alpha Condé in the presidential election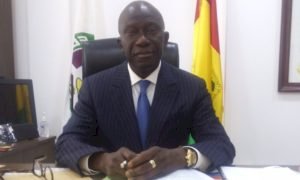 The President of the Guinean Gathering Development (GDR), Abdul Kabelè Camara, said Sunday that he does not recognize the final results proclaimed by the Constitutional Court giving Alpha Condé condo with 59.50%. In a statement read before the press, the former Minister of Security indicated that '' The results of the presidential election of October 18, widened by the CENI and confirmed yesterday by the Constitutional Court, proceed from the lack of courage of men's sensible defend our institutions. He believes that the CENI and the Constitutional Court '' subject to power in place have fallen into their role by accompanying planned electoral fraud and implemented throughout the territory. Calling the Guineans to refuse '' permanent manipulation '', Kabelè Camara submits that the numerous shortcomings to the law before, during and after the ballot are likely to call into question the whole process. ''.
He wonders '' How to explain the non-compliance of the minutes displayed in the polling stations with the results from centralization by CENI and confirmed by the Constitutional Court? "He ensures that his political training, the Guinean gathering for development ( He promises to stay consistent with his commitment '' to the people for the defense of the strict application of the laws and regulations of our country.
The former collaborator recalls that '' The principle of alternation is a sacrosing principle of our constitution and we remain firmly attached. " That is why, he insists, so we can not recognize the victory from the first round of the outgoing President who made a strength passage. To whom wants to hear it, he says that the current political configuration and the results of the different voting offices do not give Alpha Condé a '' victory from the first round ''.
Boussouriou Doumba, for Visonguinee.info