Igangan Invasion: Sarkin Fulani May Sue Igboho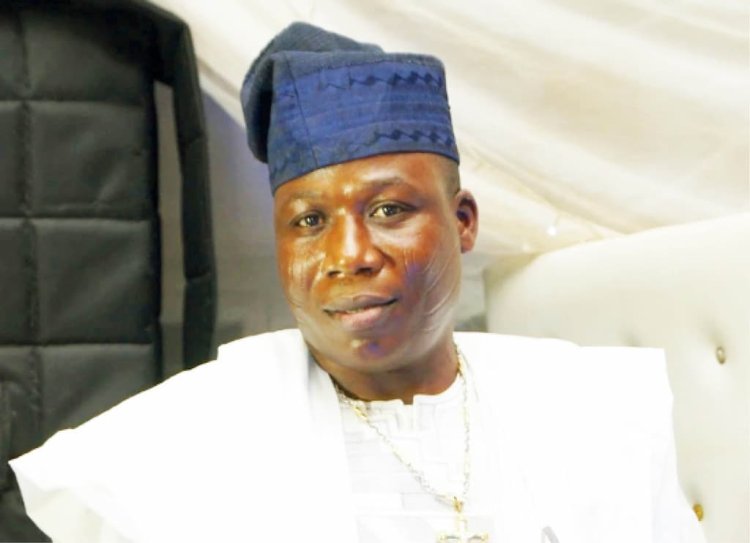 Chief Sunday Adeyemo, aka Sunday Igboho
The Sarkin Fulani of Oyo State, Alhaji Saliu Abdulkadir, who was evicted from his base in Igangan, Ibarapa North in January 2021, said he is considering legal redress over the invasion of his settlement by the Yoruba secessionist, Sunday Adeyemo, aka Igboho.
Igboho had in January 2021 invaded the settlement with his supporters after a one-week ultimatum given to the Fulani to vacate Igangan.
After the invasion, the settlement was set ablaze while the Fulani leader said his property comprising houses, and cars, among others worth N500 million, were destroyed.
He also disclosed that 207 cows were rustled during the attack allegedly instigated by Igboho.
Daily Trust reports that Igboho had blamed the herders for a series of attacks in Igangan especially the killing of a medical doctor, Fatal Aborode.
Shortly after the attack, the Fulani leader relocated to Ilorin, the Kwara State capital.
Speaking with Daily Trust at the weekend, the Fulani leader lamented that he was made to suffer unjustly and demanded compensation for the attack and the losses incurred which he said left him pauperized.
He recalled that he fled Igangan with members of his family with nothing, adding that his houses, fleet of cars, cows, and other valuables were left behind.
Abdulkadir insisted that the allegations that he was behind the series of deadly attacks in Igangan were false and said there was no evidence that he was directly or indirectly involved in any of the attacks in Igangan.
In order to seek redress for the losses incurred during the invasion, he said he would seek redress in court.
On the murder of Dr. Aborode, the Fulani leader said evidence in the public domain suggested that the politician was killed by his opponents as confirmed by his father in an interview with BBC Yoruba earlier in the month.
In the video which was shared with our correspondent, Dr. Aborode's father, Lasisi Aborode exonerated Sarkin Fulani from the murder of his son.
He said, "My son, Dr. Fatai Adisa Aborode was assassinated on his way from his farm. He was killed on politics basis (sic). The information collected was that when they were coming, four assassins were waiting for him. When they got to the spot where he was assassinated, the four of them wore masks. They were with guns and they said we were here to take your life. They started shooting him. He didn't die immediately. He died on his way to the hospital.
"What I know is that those assassins were hired. Fulanis were there, Yorubas were there. They were hired by politicians," he told BBC Yoruba.
According to Sarkin Fulani, the comments by the father of the deceased contracted the claim by Sunday Igboho that he was macheted to death by Fulani herders after he went to complain about the destruction of his farm.
Therefore, he said he has made up his mind to file a suit against Sunday Igboho who instigated the attack.
Asked if he would be joining the Federal and State Government, he said he was still awaiting the promise of compensation from the government before he decides on joining the government in the planned suit.
He disclosed that the state government at the time of the attack did its best to forestall it by providing him with security but the security personnel on ground were overpowered.
He said, "Since the incident of January 2021 when Fulanis were sent away from Igangan, there has been series of kidnapping perpetrated by the indigenes of Igangan."
According to him, more Fulanis were even victims of kidnapping for ransom in Igangan and its environs in Ibarapa zone of Oyo State.
As at last count, he disclosed that 27 Fulani herders have been victims of kidnapping by those identified to be Yoruba.
Abdulkadir said, "I have written several letters and petitions to the Federal and state authorities, yet nothing has been done. I have been living from hands to mouth. It has been difficult feeding myself and members of my family.
"It is almost two years now since the incident caused by Sunday Igboho. I have decided if nothing is done anytime soon to compensate me and my children for the losses, I will have to sue the government and Sunday Igboho.
"I learnt he is not in Nigeria yet but that would not stop me from going ahead to sue him and the government since he also has a suit against the Federal Government. I have suffered unjustly.
"I have lived in Igangan all my life. I gave birth and raised all my children in Igangan and I was equally concerned about the security situation in Igangan and other parts of Oyo State. How can I be responsible for the attacks and killings in Igangan," he said.
Source Daily trust