EFCC Is Built On Integrity Commends Enugu CP Ahmad Abdulrahman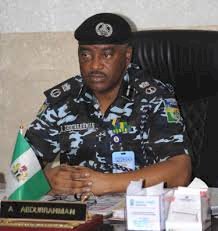 By: Ilobun Donald
The Enugu State Commissioner of Police, Ahmad Abdulrahman has commended the Economic and Financial Crimes Commission, EFCC, stressing that the Commission was built on a foundation of integrity.
He gave the commendation in Enugu on Wednesday, September 9, 2020, while receiving the Enugu zonal head of the EFCC, Mr. Johnson Oshodi, who paid him a Courtesy Visit.
According to him, integrity was the bedrock of the EFCC and officers of the Commission should continue to maintain the legacy.
"Integrity was the foundation the Commission was built on and I will urge you to stand on it, be professional and God- fearing, because he who stays in a glass house, does not throw stones", he said.
He praised the new zonal head, saying he was not surprised he paid him a visit, having known him as a serious man.
The Police boss reassured the EFCC of his continued support and advised officers to shun any form of corruption but rather maintain the integrity the Commission is known for.
Responding, Oshodi, commended the police for its contributions and success achieved since the creation of the Commission, saying that the Police is crucial to the success of the EFCC.
" Sir, we appreciate the Nigerian police for all it has done for the Commission, it is because of this that we deem it essential to come to seek for further cooperation between the two organizations and tap from your wealth of experiences", he said.
Earlier, the Enugu State Director of the Department Of State Security( DSS), Mr. Bright Chinyereugo Ekwoaba, had also expressed support for the EFCC when the zonal head paid him a Courtesy Visit.
" I have been very privileged to have worked with EFCC in many areas and can say we are partners in progress, even as the work of the two agencies are similar", he said.