DR. SAMUEL ORTOM WATCHES ON AS HIS KINSMEN UNLEASH MAYHEM ON OTHERS: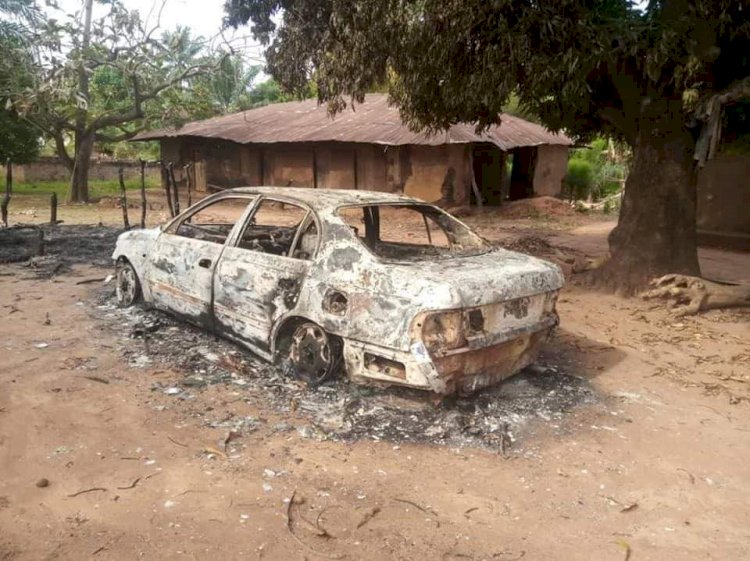 On Saturday, 27th March, 2021 I wrote to the world and informed all of the looming genocidal attacks on Ukpute people in Oju LGA by Bonta people in Konshisha LGA, all of Benue State.
In doing this I titled my message in the words of Dr.Ortom
"WE HAVE TAKEN OATHS OF OFFICE, LET US ABIDE BY THOSE THINGS WE HAVE SAID AND WORK TOGETHER AS A TEAM; LEAVE POLITICS ASIDE, LEAVE ETHNICITY ASIDE AND SECURE THE COUNTRY.
WE HAVE NO OTHER COUNTRY THAN THE NIGERIA WE LIVE IN"
When he fielded questions from State House Correspondents during his visit to President Muhammadu Buhari few days after he (Ortom) was allegedly attacked by "armed herdsmen".
Just about 7 days after my write up, precisely on Saturday (3rd April, 2021) an army of Tiv Militias numbering over 300 marched on Ukpute Community, chanting war songs while raining bullets on the community, killinnn several people as they razed down buildings and other property.
Their main war song when translated from Tiv language to English language means " The Landlords have arrived! Igede what brought you here!
Leave our land or you dieeeeee!".
The attack lasted the whole day as the world and Dr. Ortom watched on
Since then and up till yesterday (April 5, 2021) there has been sustained attacks on us.
We are daily slaughteredddd likeeee goats by Tiv people, yes, I mean Tiv people not because all the Tiv could have been involved in the assault
But because rumours came to us like joke and the number of armed militias and their weapons proved it, that a certain number of warriors were being recruited from different parts of Tiv land to execute the war. Bonta people could not have become so many and populous within few days as the number of the warriors that have been invading our community in past days.
It is also not possible that Bonta community that we know could afford the number of automatic, pump-action guns that are being used by the warriors to hack our people down.
In our last letter to the world and Dr. Ortom we prayed that Governor Ortom should:
1. Liaise with the relevant federal authorities to deploy security operatives to stop the needless killin
2. Sensitize the warring parties on the need to live and work together as a people ( team);
3. Use the records from the Archives to trace up and build concrete pillars along the boundary lines to foreclose future reoccurrence of dispute.
It is quite scarring and awe inspiring to observe that our vibrant and outspoken Governor is yet to utter a word in response to our prayers. More worrisome are the foul rumours saturating the air of threats by Bonta people that no security operatives that dare enter their land would go back alive.
Why has our vibrant, outspoken Governor with temerity and audacity to speak to power suddenly develop huncheeed tongue in speaking to his subjects, especially his Tiv brothers?
Why would it take forever for Governor Ortom to discharge his constitutional responsibility to protect all indigenes of Benue State irrespective of their religious or ethnic background?
Who acquired the huge, sophisticated, automatic rifles for the small Bonta community within a short time?
How did Bonta community become so strong and powerful in war fare to issue warnings to security operatives to steer clear or risk their lives?
If ancient, precolonial communities like Ukpute, Ekingo, Obotu etc are asked to vacate their ancestral homes, where would they go?
The Bonta Tiv warriors have probably interpreted the body language of Governor Ortom to mean a tacit approval for them to evict us from our land and would stop at nothing but to carry out their well planned land acquisition by annihilation, extermination and annexation. The question is, after our communities, which communities next?
You may wish to know that Ukpute and Bonta communities have been neighbours for ages without qualms until one Retired Soldier, Mbanongun was made Chief of Bonta over 20 years ago. Soon after he assumed office his main agenda was to expand his territory and chiefdom about 30 km into Oju LGA beginning with Ukpute community which is Bonta's immediate neighbour.
After some series of land seizures, batteries, annexations and intimidations, Chief Mbanongun declared war on Ukpute community in 1997 without prior provocation. Much havoc was wrecked on our community and we only survived due to prompt intervention by the then Military Governor, Col. Aminu Isah Kontagora ( may God bring him back to life).
Since then Chief Mbanongun continued with his exploit by settling his displaced kinsmen from Taraba and other places as a result of land disputes and promised them their autonomous chiefdoms if they could further seize lands from us. The seizures continued unabated using different methods from the post- 1997 war till June, 2020 when Chief Mbanongun declared yet another war on Ukpute without prior provocation.
The 2020 war lasted for over a month while Governor Ortom watched on as he is doing now. Our petitions went out to the world; our blood cried up to the heavens like that of innocent Abel of the Bible; criticisms from humanitarians and the media soared high until the Governor waded in after over a month of intense fighting and destruction by Bonta militia men. Investigations were conducted and no single act of hostility could be traced to us but all to the blood thirsty Chief Mbanongun and his loyalists.
Unofficial information available to us then was that while the amiable Tor Tiv, Prof. James Ayatse recommended outright sack of Chief Mbanongun, the Governor only suspended him and appointed another in acting capacity.
From that time until March, 2021 there were increased and sustained acts of aggression from Bonta people loyal to the suspended Chief Mbanongun: our farm lands were cleared up to our backyards, we were constantly harassed and prevented from rebuilding our burnt houses, our work tools and farm implements seized, our young men were abducted, beaten and wounded.
In all these we continued to endure as our culture demands coupled with encouragement from the new Chief of Bonta who would always sue for peace and appeal to us not to respond. All these were reported to the Governor directly and indirectly but nobody has ever been arrested till date.
The militias were probably emboldened by the indifference exhibited by the State Government and invaded our community early morning of March 7, 2021; inflicting deep machete cuts on some of our people as others scampered for their lives; they started destroying our houses, calling on us to "Come back"! "Where are you going"? "You don't have guns"! "You are our slaves and if we kill you nothing would happen!". This was how the ongoing onslaught started. Nothing more. Just imagine.
Alash! Who will save us from the strong hands of Bonta warriors. We look up to you oh Mighty God. Where man fails you prove to be the Almighty. Stand in our defence oh Mighty Jah! For only you can fight our battle against those more numerous and stronger than we are.
We call on all people of good conscience to pray for us as extermination stares at us in the face.
We call on DrSamuel Ortom to put on his official garment and act like a Governor, not of Tiv nationally but of Benue State by calling his subjects to order.
We further call on Mr. President, Muhammadu Buhari, GCFR and the world at large not to watch until the Rwandan scenario happens
The time to stop it is now.
# Lives of minority tribes matter.
Attention:
President Muhammadu Buhari;
Secretary General
United Nations
Chairman
National Human Rights Commission
All National and International Humanitarian Organizations
Above is for your information and necessary preservative actions.
Signed.
John Odeh Agi
Coordinator,
Vanguard for the
Survival of Ukpute
People.
06/04/2021.