BAABA MAAL RELEASES NEW TRACK 'AGREEMENT'
Baaba Maal headlining at The Barbican, London Tuesday May 30th, 2023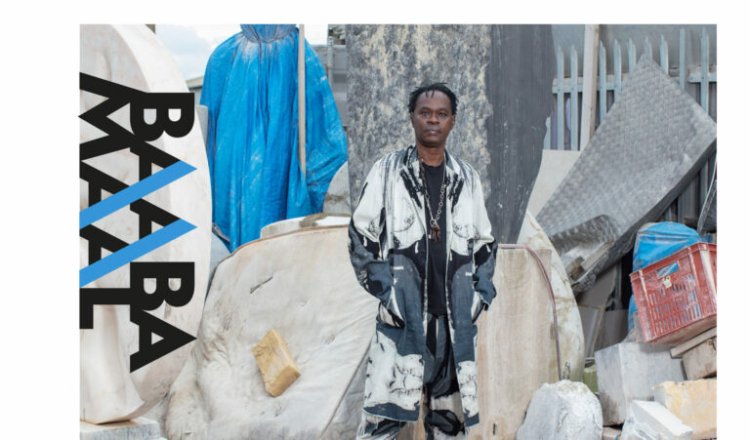 Baaba Maal is releasing his daring and dazzling new album, 'Being', on March 31st, 2023.
By Jo Forrest / 25/01/2023
Today sees the release of his beautiful new song 'Agreement', the fourth track on 'Being'. The hypnotic, looping track emerges out of a riff played by Barou Sall, a Hoddu master and long time Baaba Maal collaborator. This traditional Senegalese instrument which prefigures the banjo accompanies Baaba's pure, searching vocal, backed by Mamadou Sarr's delicate percussion. Production from Johan Hugo treads a magical line between ancient and modern, following Baaba's ongoing musical quest to discover where the past meets the future and old becomes new. As ever, the song is about making musical, cultural and emotional connections.
"Agreement is about the relationships you make in your life, whether they are with friends, musicians, neighbours, people you love," explains Baaba Maal, "When you say to people, we are going on this journey through life together, through good times and bad, you should be very sure that you mean it.
"It's based on a proverb from my community – to say no at the beginning to the idea that we will always be together is much stronger and more noble that beginning a relationship and then cutting it short later, maybe forty years later. Be mature enough to take seriously an agreement you make with someone about the future, about your souls being connected."
'Being' is a powerful continuation of Baaba Maal's pioneering, transcendent and inspiring work over the last forty years, always committed to making the world a better place, blending the traditional and the innovative, the acoustic and the electronic. Extending his productive partnership with producer and multi-instrumentalist Johan Hugo (Self Esteem, The Very Best, Santigold), his first album since 2016's 'The Traveller', 'Being' was recorded in Brooklyn, London and Senegal and confirms Maal as one of the most uniquely compelling and constantly surprising musicians in the world.
Baaba and his extraordinary band will also be performing at the Barbican in London, the first time in 20 years at the venue, on May 30th, 2023.
Being – released March 31 2023