HE IS AN ACADEMICIAN OF HIGH REPUTE: GWANI MOURNS DG NIPSS' PROF. HABU GALADIMA DEAD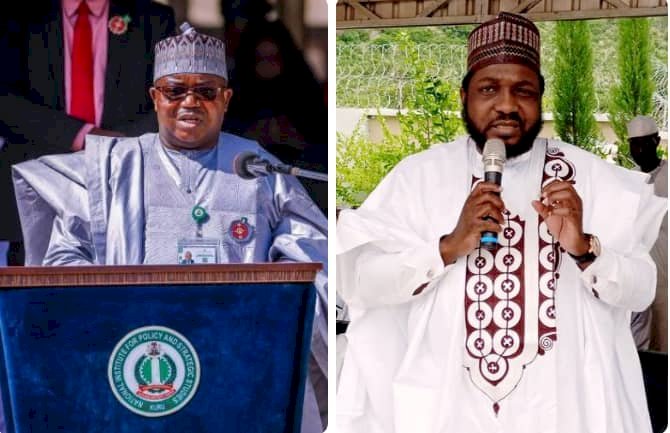 Late DG NIPSS Prof Habu Galadima while Next To Him CON Gwani Muhammad Alkali
Press Release
Gwani mourns the dead of Director General National Institute of Policy Strategic Studies (NIPSS) Late Prof. Habu Galadima
Gwani Extend his Condolence through his Spokeman Comrade Abu Maleek MJ
Gwani Muhammad Adam Alkali (OON), A philanthropist, business tycoon and a politician of high repute, extends his heartfelt condolences to the family of late Prof. Habu Galadima, the states of Nasarawa and Plateau and the nation at large over the demise of the academician after a brief illness.
The late Prof. Habu Galadima was the DG of the National Institute of policy and strategic Studies (NIPSS) whom stewardship of one year had brought about remarkable changes by introducing new concepts that made research seamless amidst the global pandemic. Moreso he also did a lot to improve the physical infrastructure of the institution while strengthening the academic experience for all course participants.
Gwani prayed to the late Academician: "May Allah (SWT) in His infinite mercy, grant him rest in Jannatul Firdaus and his grave to be an abode of light. May Allah make him pass successfully in all the stages of the life after death."
Moreover, Gwani remembers the late eminent scholar;"his local and international exposures are clear, judging not only by his appearances as guest lecturer in many local and international bodies, but also for his experience as Consultant for many international organisations such as the DFID, ECOWAS, World Bank and the UNDP to mention but a few.
"Prof. has published widely, with over twenty publications in local and international journals. He has written three books, edited two and made chapter contributions in more than 15.
Prof. Galadima's work experience has nearly always been in the academics. Joining the University of Jos in 1990 as Assistant Lecturer, he rose to become Reader in 2004 and full-fledged Professor of Political Science in 2009. He has held many positions in the University, ranging from Coordinator of Departmental programmes, to Head of Department of Political Science and Deputy Director Academic Planning.
Happily married, the father of three will be greatly missed."
To the family, friends, professional colleagues and the nation at large Gwani prayed that Allah (SWT) enhance their recompense and be generous in their calamity and forgive the deceased and induce them with patience and multiply for us and for them recompense through patience.
Ameen.
Abu Maleek MJ
Spokesperson
21/12/2020