Sierra Leone's Vice President Meets with Fulbeh Diaspora Reps.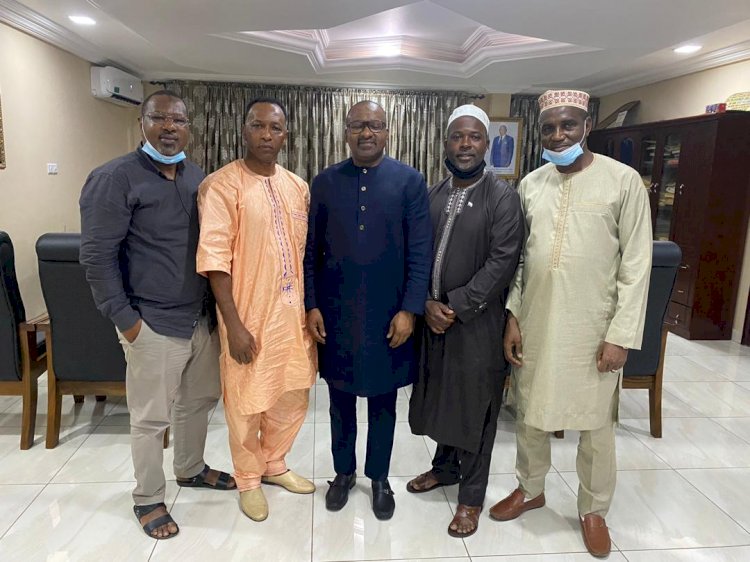 Sierra Leone's Vice President, Dr. Juldeh Jalloh on Tuesday, November, 24, 2020 received two committee members of the Diaspora Masjid Rahman Rehabilitation and Expansion Project at his Tower Hill offices in central Freetown.
Chernor Jalloh of Dallas, Texas and Atlanta Georgia - based Mohamed C. Bah of the 3 - Man Diaspora Masjid Steering Committee who are currently in Freetown met with the country's Second - In - Command (2IC) after receiving an invitation extended to them to pay a traditional courtesy call.
The meeting came two days after a very colorful and successful handing over ceremony of funds contributed by the Fulbeh Diaspora towards the Rehabilitation and Expansion of the Fullah Central Mosque was held in Freetown.
The two committee members were accompanied by the Fullah Tribal Head, Western Area and the FPU President, Alhaji Sarjoh Jalloh and Umaru Sanu Barrie respectively.
Below is what the country's Vice President, Juldeh Jalloh posted (in verbatim) shortly after the meeting followed by some photos.
"Today, I met with the representatives of the Fulbe Diaspora who contributed to the rehabilitation of the Fullah Masjid in Freetown. I used the occasion to thank them and the entire Fulbe diaspora for their gesture. As I indicated, the Fullah Masjid is not only a place of worship for the Fullahs but a vivid representation of Fulbe resistance and learning in the 70's. We owe it to our fathers and fore fathers to keep that edifice and protect its heritage. I am very proud of our Fulbe brothers and sisters that joined us in this noble endeavor. Onh Jarama."