Saraki Launches Presidential Ambition In State Angry At Fulanisation Agenda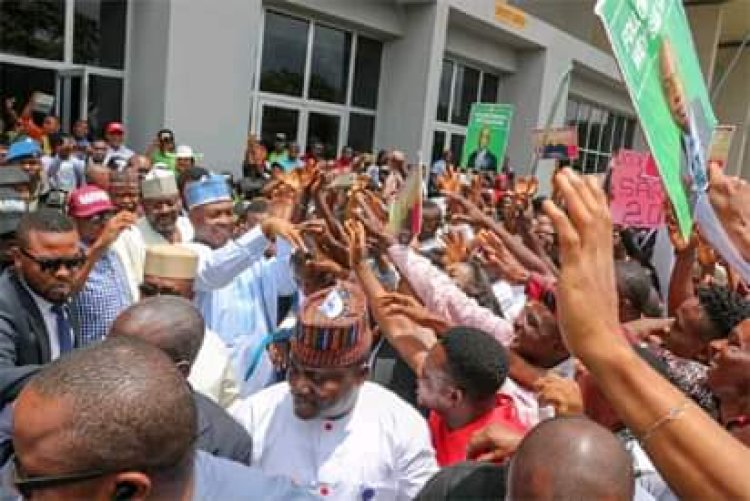 Former Senate President Bukola Saraki wants to have a head start over Kogi Gov Yahaya Bello so he began his campaign for the 2023 presidency on Tuesday right in his region—the north central, Benue precisely.
After a closed door meeting with Governor Samuel Ortom, Saraki also met with the State Working Committee members of the PDP and other party stalwarts to sell them his intention.
While the PDP is floating its own presidential ticket, its governors in the south have insisted the ticket is theirs for grabs in the region.
This could have been the reason Saraki wants to take a flyer on other aspirants from the north—like Bello who is also gunning for the APC ticket.
Saraki already dismissed the ruling APC, saying the nationwide defection that hit the APC in an indication that there may not be anyone left in the party before the next election.
"A party that cannot organise its affairs has no business leading this country. A party that has organised its affairs is ready in leading this country and that is the PDP," he said.
According to him, the north central has paid its dues by working so hard in keeping the country together as one united entity.
"This time we must stand for our own and charity begins at home," he said.
But there are still many odd against the Kwara former governor.
Many believe there is no way the PDP will give Saraki's region both the party chairmanship and the presidency.
Again, going to curry Ortom's favour might not sound like a well-thought idea either.
Ortom believes there's a Fulanisation agenda, and may not support another Fulani aiming for the nation's topmost job.
Saraki is Fulani.