Police Arrests a 56 Year Man with Guns In Plateau State [See Photos]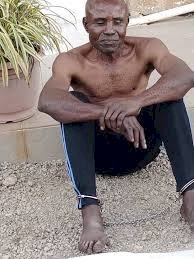 Insecurity is one of the biggest challenge we are currently facing in nigeria despite the good performance of our Security Agencies.
The Police has many department which are specialized in various security activities, they have the Anti-kidnappers, anti-bomb Squad, SARS, Rapid Response Unit and others.
Sometimes they form a joint tax force [JTF] which consist of the Army, Airforce, Mobile Police and civil defence officers and men.
This was to give a good result in tackling insecurity by using their different field of specialities.
The are Army Officers are trained to kill and save the lives of women and children meanwhile the police officers are trained to interact with people and also judge between them if their is any misunderstanding.
It's not an easy task to deliver as humanbeings, we must learn to appreciate them in every possible way.
We must also ensure a voluntary policing in our communities in order to support them and help them fight against insecurity.
It's our duty to report any new faces we see around our village to the village head or rush to the nearby police station.
The operation safe heaven in jos the capital city of plateau state reported the Arrests of one Mr Christopher Ngwu.
The 56 year old man was Apprehended in Chiyawa in Quan Pan, he was later paraded by the Security personnel at the STF Headquarters in Hill station junction, Jos.
According to Christopher, he gets the guns from one " Mamuko" from Wukari in Taraba state.
He Added that "mamuko" sells the pistols between 60_65, 000 naira and the pump action rifle 80,000 naira.
Christopher is currently in the custody of the plateau state police command for further investigations.
This is very unfortunate, May God protect us with our family against this evil people among us.