Omar Sy to star in movie in honor of Senegalese soldiers who fought for France during world-war 1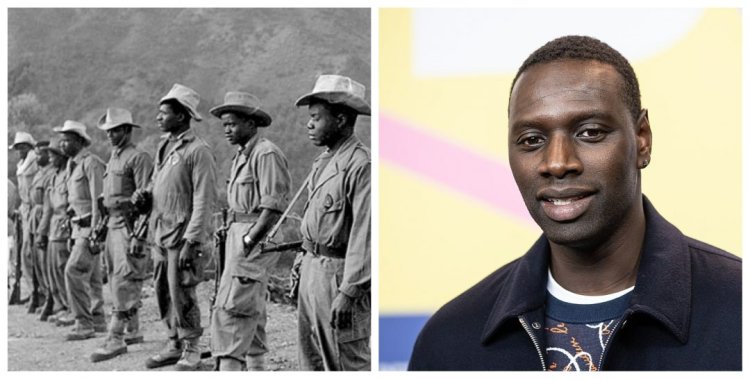 Award winning actor, Omar Sy who is popularly known for his impressive role in viral movies such as, "Lupin," "The untouchables," "infernos," "Jurassic World," among others is set to star in a latest movie themed "Father and Soldier" in honor of the Senegalese soldiers who risked their lives to fight for France during world war1.
Commenting on his role in this new movie, Sy said "this film is coming together at a time in my life where I feel an urge to connect the cultures and histories of two countries which saw me grow up as a producer, alongside Unité, and as an actor in order to pay tribute to these deserving men."
According to the story line, Sy, whose fictional name is Bakary will play the role of a father who joins the army and decides to go to war to protect his 17-year-old son (Thierno) who was recruited by the French against his will to help fight in the first world war; a drama which is a reflection of the past reality.
Recall the bad history between France and Senegal, where a considerable number of Senegalese were recruited into the colonial infantry group called the "Senegalese Tirailleurs", some against their will to defend France in the First world war. This current movie which will be shot in both France and Senegal focuses on addressing some of the horrible experiences of the past and also draw attention to the 'forgotten' gallant soldiers.
Apart from the first world war which the above-mentioned movie focuses on, Senegalese soldiers equally suffered some bad ordeal during and after the second world war. Recruits from the country who joined a large number of Africans to fight for France were later paid back with painful deaths.
Fighters of the world-war two who secured victories for the French power became victims of the popular grand massacre at the Thiaroye camp in Senegal where the French soldiers opened fire on unarmed black soldiers, killing many of them following a protest for equal pay with their European counterparts, better treatment and also the release of their salary arrears. The French termed this protest, a rebellion.
This story was earlier narrated in a film titled, Camp de Thiaroye released by Sembene Ousman, a Senegalese cineaste and writer 44years after the incident but the film was banned in France for 17 good years and equally censored in the West African country.
Source eye Gambia