Bashir Tofa: The Saint Goes Home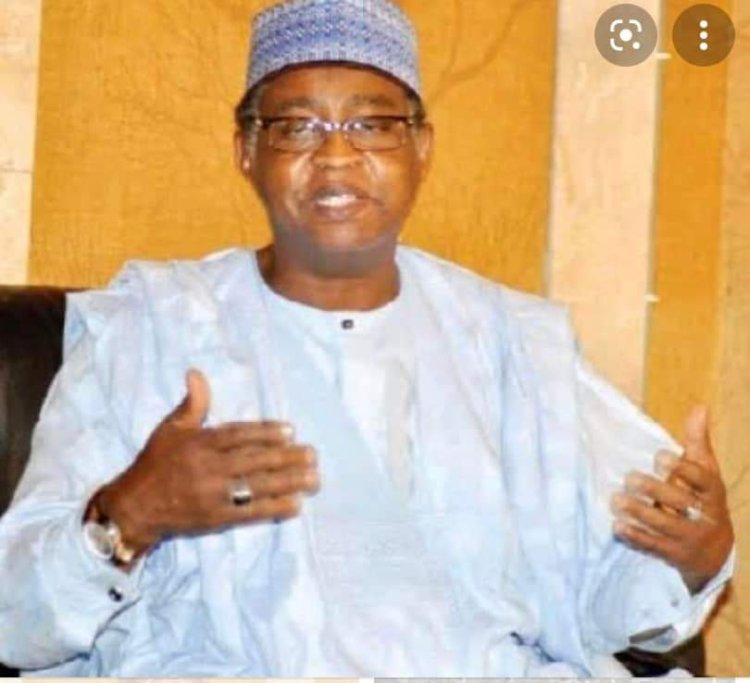 While I was still in the fold of my blanket this morning, I was unprepared for the sad story of the departure of one of the finest souls that lived among Nigerians. HRH, Muhammadu Sanusi II broke to a group I belong the news that Alhaji Bashir Tofa died last night. I abandoned the idea of leaving the bed and prepared to embrace the approaching sadness that will possess my soul, turn my heart heavy and throw it into the abyss of the extraordinary sadness which typifies the loss of a dear one.
The Reception in Heaven
The angels must have been busy all day preparing a grand reception for the homecoming of this saint. The heavens, adorned with stars that lit every corner and layer of their galaxies, were in perfect state of readiness when his soul left our filthy planet—where it was imprisoned for nearly seventy years—to the station of majesty, in the company of angels who carried it to the presence of the Most High. The tables, the rivers, the fountains, the fruits and the hur, must be rushing to attend to a soul which served so many poor here on earth for decades and cared so much for us and our future. "The reward goodness is goodness."
Saints are Different
Here on earth, the sadness of his loss overtakes us as we commit his body to the earth. We will grieve over his loss and reminisce on his abundant virtues. He was a life well lived; its replacement difficult to find as few saints live on earth. I have met only few like him among our elders who not only took our decay seriously but worked tirelessly to treat it all their life. His dedication to the larger Nigeria and his immediate society is manifest even at first meeting and its depth increased with every contact. He was the kind of elders one would wish to meet every day, tapping from their experience, sharing their spirit and drinking from their fountain of knowledge.
That was the takeaway of my first meeting with him at his house at Gandu in Kano in 2016. He admired my rantings in the newspapers sixteen years earlier; then my adventure into poetry persuaded him to reach out to me. He injected, like no other, in me the impetus to compose more since I "shocked" him with Ta'aziyyar Abubakar Ladan Zaria and he added more doses with each composition. He was the oxygen that fed the flame of my verse until the very last one I sent him – Dare Sahibina and Lambar Yabo. The poems that many others greeted with envy, he invigorated with fruitful praises. Such are saints. They act differently.
Malam Bashir did not sit to lament. He did everything his body and soul could permit. He formed and joined unions and organizations for the advancement of his society including politics which he played without the greed of the hungry or the flamboyance of the elite but with the purpose of the reformer. While politicians abhor reforms that check their delinquency, our saint inspired it with his soul that was pure and focussed on heavenly values. Where others wanted you to leave, he encouraged you to stay. Saints are different.
One can easily say that the fate of this country would have been different had he won the June 12 election in 1993. May be the election would not have been cancelled and we would not have walked the disastrous path of the regimes that superintended the unabated failure of the Nigerian State in the following three decades. But it is just unfortunate that the default setting of this world is for we fools to be the majority and when we are in power or called upon to elect a leader, our logarithm prefers our kind over the saint whom we often despise, fear or envy. The result of that permutation is the failed Nigerian state of today.
Virtues
Nigerians will be counting the virtues of that Saint today. The earliest I read was the one that accompanied the news from Muhammadu Sanusi II. He said: "He was the last man standing for sanity and the protection of Kano and its heritage."
My indefatigable sister, Hauwa Umar Aliyu Birniwa, said, with a broken heart:
"Personally, I testified that Alh Bashir Tofa is a good, kind and one of the MOST generous person I've met in my life. One needs to have a glimpse of his private life then will know who and how generous Alh Bashir Tofa was. He always had a store in his residence that is stocked with atampa (ankara) and materials (Yadi) that is being sown and distributed to orphans and the needy. The tailors are like permanent staff as that was what they do all year round…. I have personally collected more than a thousand sets of those clothes and distributed them to the needy. He has been sponsoring health outreach activities. I can testify that during one of such services he gave me slots for people in my rural communities in Birniwa LGA, Jigawa State. He was also an Intellectual. I have most of his written work on different thematic issues. I think I have more than 15 copies of his books that he wrote on different things from science, social sciences to fiction."
While other will remember him for different things, as a conclusion, I reproduce here a synopsis for a poem he wanted me to compose which portrays his passion for peace and progress of his society. It came after listening to the last two compositions I sent him, which I mentioned above:
"Brilliant. How I wish you would compose a 3-minute poem which will draw the attention of Boko Haram, bandits and leaders on the following:
"1. The danger of terrorism, killings and kidnapping of people and looting their wealth. They should understand that there is judgement tomorrow.
"2. Leaders should desist from playing with the trust of power which God has put in their hands. They should know that there is judgement both in this world and in the hereafter.
"3. That God may come to our rescue, other people should be seeking the forgiveness of God change their bad habits. People should organize themselves and help one another in guarding their borders and know that government cannot do everything. Etc."
It is a shame that I could not compose anything since that chat and he did not live to see me fulfil his wish.
Farewell
In a state of sadness but with lots of gratitude to God for a life well spent, we pray that may the soul of our saint rest in perfect peace, in the Heaven high above. My sincere condolences to his wonderful family and the great people of Kano. Kanawa, ku dau hakuri.
إِنَّ ٱلۡمُتَّقِینَ فِی جَنَّـٰٰتࣲ ونهر. فِی مَقۡعَدِ صِدۡقٍ عِندَ مَلِیكࣲ مُّقۡتَدِرِۭ
"The pious will dwell among gardens and rivers, firmly established in the favour of a Mighty King."
Dr. Aliyu U. Tilde
3 January, 2022