My relationship with Gangstarr goes back to the their first LP. I use to visit them at their apartment in the Bronx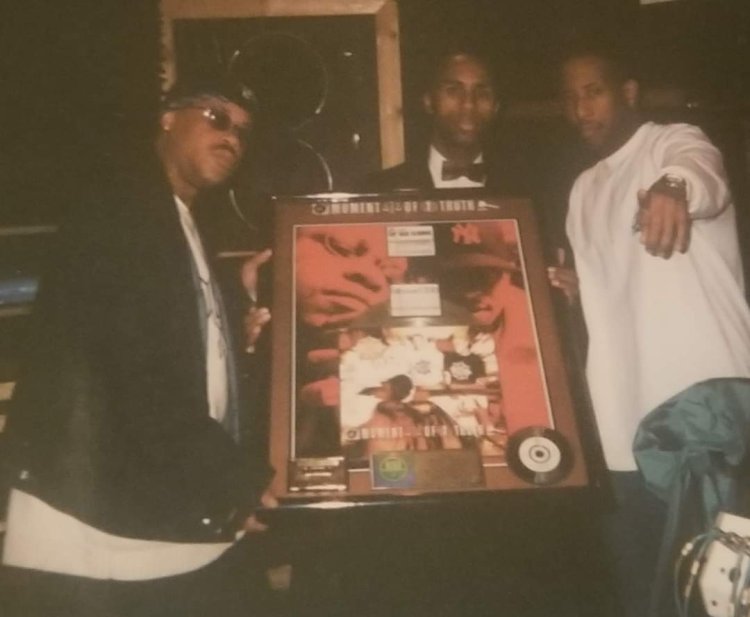 It was one big Family. D.J. Premier, Guru and their dancer H.L. Roc. Of course Primo took up the most space he had records stacked to the ceiling...lol!!
Guru produced two of my first recordings at the late Kenny Scott's "K-Rock" studio in the BX. I will release them at a later time (God Willing) stay tuned.
My into to the "Robin Hood Theory" song came about when I ran into my old friends at the legendary D & D studios in Manhattan (which was later purchased by DJ Premier and named after a fallen member of Gangstarr named "Head Quarters" ),.
I was there accompanying Doug E. Fresh- for one of his sessions . Guru and Premier were in a separate booth working on one of the songs for their upcoming "Moment of Truth" album.
When Premier sees me he says "Brother Elijah I was just thinking about you!! I wanted you to say something on one of our songs about the Kids"..
Wow.. Alhamdulilah.. what a blessing.
To know why he thought of me to say something about the youth, you would have to go back to their 1989 music video "Positivity " . At the request of Guru I was able to arrange for the Jr. FOI to appear in the video.
Years later Gangstarr returned the favor to me when I first became the Jr. FOI instructor back in 1996. They sponsored the airline tickets for the young Brothers to travel to Chicago for our Saviours Day Competition.
A year later there we were in the studio.
The "Moment of Truth " Album came under very trying circumstances. Guru was facing gun charges in an incident at an airport in L.A. that he lyrically documented in the song "LAX to JFK".
He was facing serious jail time which , thankfully was avoided but only after the release of the album.
However, the weight of the charge being heavy on our minds during the writing and recording of this Album is what made it the Classic that it is.
After being asked to be a part of this historic project, It took about a month to finally lock in the date for the session.
We did two takes in less than 15 minutes. Being my own worst critic (as most artists are) I wanted to do a third take. But Guru and Primo assured me that no, it's good as it is.. and the rest is History.
It was/is a great honor. . Especially, since "Moment of Truth" was their first Gold LP after 10 years in the underground on the grind. I feel blessed to be apart of it.
I returned to D & D studios for this very private ceremony where we were presented with Gold Plaques to commemorate this great Milestone in their Career.
To be on the same recording with Greats such as Inspector Decknof Wu-Tang, K.C. & Jo Jo of Jodeci, Scarface, etc,. Is a humbling experience.
May Allah continue to bless the legacy of my Brother and Friend Keith Elam a.ka. Guru.
And Thank you DJ Premier for allowing me to be a part of this Great History.
Elijah S. Muhammad Bah