Life Is Competitive – Dija Isa Hashim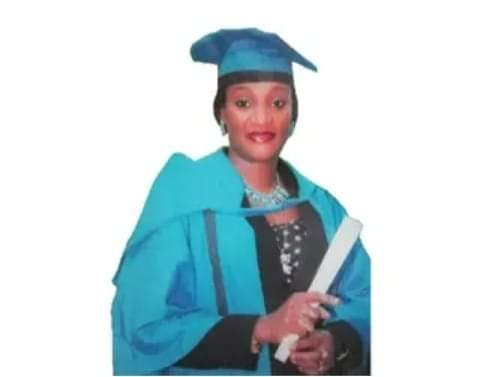 By Rosemary Bassey
Dija Isa Hashim Esq is Deputy Provost (Administration) of the Aminu Kano College of Islamic and Legal Studies, Kano State. She is from Rimin Gado Local Government of Kano State. She has 8 siblings and the names of her parents are Prof. Isa Hashim and Hajiya Adama Belgore.
Educational background
I started my primary education at the 32nd Street School, Los Angeles, U.S.A which is an affiliate of the University of Southern California where I obtained a Certificate in Mini-Course Geography. On return to Nigeria, I was enrolled at the Kaduna Capital School, where I obtained a Primary School Leaving Certificate and proceeded to St. Louis Secondary School, Kano. From there, I got admission into Aminu Kano School of Legal Studies, Kano State Polytechnic (As at then) where I successfully obtained a Diploma in Law.
I then got employment with the Kano State Judiciary as a Registrar and I was posted to Rijiyar Lemo Upper Area Court. After that, I gained admission at the Faculty of Law, Bayero University, Kano, on in-service where I obtained LL.B and proceeded to the Nigerian Law School, Lagos where I successfully passed the Bar Final Examinations and was called to Bar.
Career background
For my NYSC, I was posted to the Ministry of Justice, Kano where I served.
All that while, I was a staff of the Kano State Judiciary in my capacity as Registrar and rose to SeniorRegistrar's level. Coming back, being the first set of lawyers in the Kano State Judiciary, the position of Legal Assistant was created and I was appointed the very first Legal Assistant in the Judiciary attached to the Judge at high court 3.
On leaving the Judiciary, I went into private practice in the firm of A.M.Bello & Co. I later started part-time lecturing at the School of Shari'a and Civil law, Aminu Kano College of Islamic and Legal Studies, Kano. I was then appointed as Lecturer II and the appointment later became Permanent and Pensionable. I rose to the rank of Chief Lecturer today.
I have held various positions, headed and been a member of several committees within and outside at both School and College level which include level coordination, and held the position of Deputy Dean School of Sharia and Civil Law (SSCL), later voted in as Dean SSCL furthermore, I was even voted again, in absentia, to serve a second term as Dean SSCL. It was during the pendency of this term, close to the end, that I was appointed as Deputy Provost of the College (AKCILS) which is my current position.
To further my studies, I applied and gained admission into Bayero University to study Masters in Business Commercial Law (MBCL) and was successful to obtain my MBCL Certificate. I further went on to apply for a Master of Laws which I completed and obtained an LL. M.
It was during the pendency of my LL.M that I was also appointed as a Member of the Local Government Election Tribunal.
Thereafter, I attended the Administrative Staff College of Nigeria, and underwent the course and training, and sat for the examination and bagged a Distinction and became a Member of ASCON.
I did not stop there because, life is competitive, and considering myself an academician, it will at least add credence to my credentials to have a certificate in Education too. Therefore, I applied for PDE and gained admission. We were in fact, the pioneers of the Professional Diploma in Education which was mounted in AKCILS. I succeeded and obtained the PDE Certificate. I also Registered with the Teacher Registration Council of Nigeria (TRCN) and became a certified teacher recognised by the TRCN.
My latest course of study was for professional development too. I registered with the Institute of Chartered Mediators and Conciliators (ICMC) and underwent the course and trainings, then sat for the examinations of the Institute of Chartered Mediators and Conciliators (ICMC) and I emerged successfully. I was inducted and conferred the Associate Membership AICMC.
Currently, I am a Post Graduate student at BUK pursuing my PhD in law.
Also, as a Legal Practitioner, I have my Law firm D.I.Hashim & Co.
Growing up
Growing up was interesting and educating. I grew up in an extended family where we lived with blood relations and other wards of our father. It used to be very exciting whenever we came home for holidays with each of us having different stories and experiences to share. The home was more of an extension of the boarding schools we attended only this time around it's us at home setting. We spent nights sharing funny and educative life experiences because each person had a different story from a different school setting. Growing up was exciting.
Life's lessons
I have acquired a lot of lessons and, in fact, I believe that everyone is on this earth to fulfil one purpose or another but the prime purpose is to help each other to make the world a better place to live. What goes around comes around. So, if you cannot help, at least don't hurt anyone. You should therefore love all. But, there's a caveat to this, be careful to trust a few because everything is real but not everyone is true.
Aspirations growing up
I have always aspired to become a lawyer to defend the cause of justice and fairness including human rights. Here we are today. We thank the Almighty God.
Fond childhood memories
Gathering together with family and friends without a care in the world. Having no responsibilities, making a jest of each other. All those outings, visitations, partying and games that we organise with full support, funding and participation of our parents. Those are cherished memories of the good old days.
Life's challenges
When we talk about challenges in a career, particularly to a schooling and working mother, it's not an easy task. Being a mother in itself is challenging on its own talk less of a combination of mothering and pursuing a career outside the home. You're expected to be there for everyone at all times and tend to their needs including emotions. It's for you to do your best and continue to pray for the best.
On life's challenges, and more so, being a woman, you tend to find yourself in some dicey situations and it is not easy. You sometimes come face to face with challenges which sometimes are just male chauvinism or they want to try you as a woman. In those scenarios, you just have to stand your ground as a no-nonsense person to achieve your goal.
So, life's challenges never end, we met them and will die and leave them. That's what life is all about challenges! You just have to keep keeping on but, they serve as lasting lessons and experiences.
My most cherished gift
My most cherished gift was from my dear uncle Hon. Justice S.M.A. Belgore (Former CJN). He contributed immensely to the successes in my life. He is the reason why I have a sentimental attachment to my wig and gown. It goes deeper than just the professional regalia.
During my Law School years, I stayed with him. He travelled to England and unfortunately, he lost his mother in law while away. He had to rush back home to Nigeria. That notwithstanding, this kind-hearted soul, unknown to me, had already ordered for my wig, its case, my gown and a blue bag which is a gift the senior members of the profession gift the juniors. Notwithstanding the situation that forced his return, He brought along with him, the case for my wig with my name inscribed thereon and the gown. Those were what he could come along with as they had been completed.
This is one gift that remains indelible and cherished in my being. I also got gingered from then on as I could not let him down. That legal regalia had to be worn. And by the grace of God, it was.
My Joys of motherhood
Watching my children metamorphose into responsible members of society.
That period of watching them grow and teaching them small lessons and they're graduating from one stage to the other into adulthood is no small matter. We can only thank our creator, the Almighty God.
My favourite type of music
Country and sentimental music.
First App I check daily
That's my WhatsApp, to be sure certain close persons have awakened alright. And if there's any news or vital information from any of our professional platforms.
Favourite fashion items
Those will be the accessories I wear to compliment what I'm wearing. From the veil to the Jewellery, the bag and the shoes.
What I wouldn't be caught wearing
I wouldn't be caught wearing indecent clothing. These tarnish your image, integrity and standing in society. I'm also a believer in the saying "Dress the way you want to be addressed".
Best travel destination
Saudi Arabia is my best travel destination. Sometimes you travel just to relax. I love the serene feeling I get praying and feeling close to my God in the Holy land.
Best form of relaxation
By listening to music, watching comedies or simply sleeping.
Best food
My best food is bean cakes (akara, kosai).
My definition of style
A style for me varies from one individual to another. It is a personalised thing. It's all-encompassing and has everything to do with how each individual differs from the others and how he fashions his personality. Decency is the keyword for me. That's style, that's a personality displayed by each individual according to his own style.
Favourite fashion designer
I'm an explorer when it comes to fashion so I do not really stick to something or an item as a favourite when it comes to fashion. I go by what pleases me.
Favourite perfume
I also don't have a favourite, but I love perfumes! It's one of my favourite things. I sample and mix to bring out the scent that suits me.
Mum's advice that has stuck over the years
Treat each child you encounter as yours. Take life easy, we are not in it to stay, we are temporary inhabitants here. Accumulate legally.
Favourite sport, colour & weather
Basketball, which I used to play. I love the colour blue and for the weather, I love the rainy season, it makes the environment beautiful as it becomes green and where it's a proper garden of flowers, it's something else! I love flowers.
Favourite day of the week
Thursday. I love this day because I was born on this day.
Favourite book
"Book of fortune". It encompasses a lot of knowledge about human behaviour, Human structure and physiology, astrology, numerology and psychology. I am attracted to knowledge on the characteristics of individuals and how to understand and or sight them. I also think it has more to do with the fact that I am interested in psychology, which is a study of human behaviour.
Looking back at your life, what would you tell a younger you?
Always watch out for yourself. Grab whatever legitimate opportunity that comes your way, pursue your dreams at the time you can, if you postpone, it may never come again or it may come at a time that you may not have the strength or time to consider it again. I believe in the three rules of life
1-If you do not go after what you want, you will never have it.
2-If you do not ask, the answer will always be "no"
3-If you do not step forward, you will remain in the same place.
Don't allow anyone to tell you or discourage you by telling you, you cannot do/make it.
Be careful in choosing close friends.
My hobbies
Travelling, reading, housekeeping and listening to music and watching comedies.
~Daily Trust