Ghana:Level 300 college student shows appreciation to Fuyag
Level 300 college student shows appreciation to Fuyag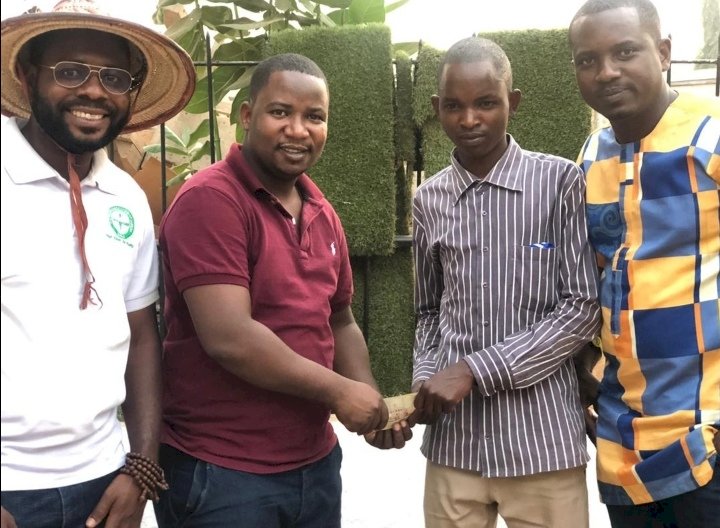 Seidu Sulley, fulani college student receiving his college fees from Gorko Braimah, Fuyag treasurer
Education has been one of struggles of all various associations in the fulani communities in Ghana and the world.
One of the fulani associations in Ghana known as Fulani youth association of Ghana (FUYAG) as part of executing its educational roles to the fulani communities adopted one fulani boy, who is brilliant but needy who had admission into one of the Teacher training colleges in North east region of Ghana.
Fuyag has been supporting this brother interms of his fees and others.
Fuyag has done it again this year by paying his bills and added on top of it a chop money.
Below is an appreciation SEIDU SULLEY, a young college fulani boy writes to Fuyag.
"Dear industrous members of FUYAG ,
I am pleased to use this opportunity to express my profound gratitude for your continuous support and care since then up to now . Infact i appreciate each and every support you gave me . Infact words are not enough for me to express my happiness and appreciation to FUYAG but God the almighty will bless each and every member of the association for their kind care and support .
Infact if not the intervention of God and the associations like this how can people like me get access to education . Inshallah the efforts of FUYAG shall one day be recognized by both the national and international fulbes and others as well.
I am still pleading on the behalf of the association members to assist me with the fees of the subsequent year which happens to be the last year of my course for the four years .
I once again thank members of FUYAG for all what they did for me, may the good Lord increase the wealth of anyone spend his/ her resources in the course of my education .
Thank you."
Pullarku let's rise and help our children to get education.
Allah walu pularku.