It's official! The flyer we have all been waiting for is here._Fulbe Africa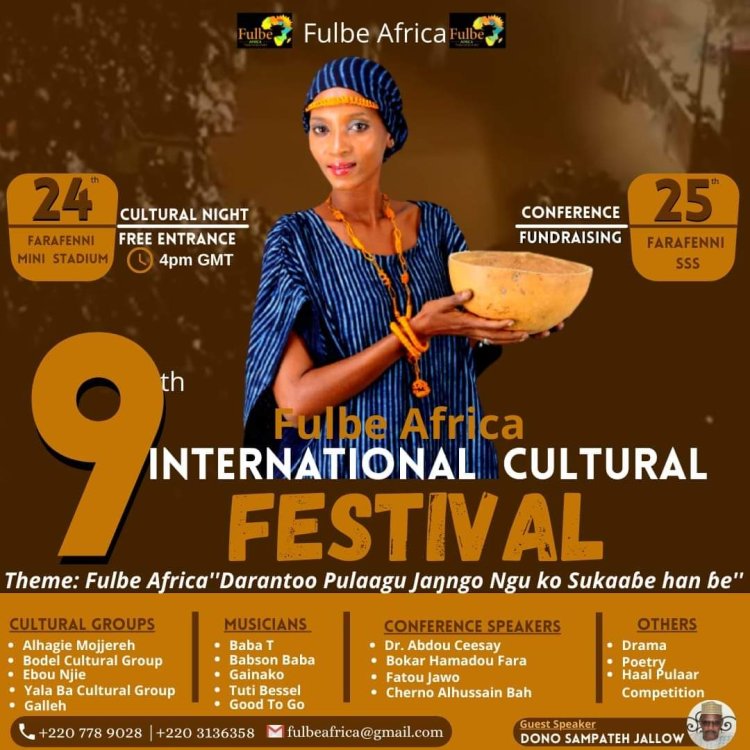 The Gambia's biggest Cultural event is set to take place on the 24th and 25th of December live in Farafenni with over 4000 expected guests from The Gambia and the Sub-region. Here is an outline of the 2 days.
24th December: CULTURAL NIGHT
This is the night set aside to display the different cultures and traditions of the different Fula dialects in the world and spice it up with amazing music from great Fulbe Artists.
We will have our Guest Speaker, Mr. Dono Sampateh Jallow to give a statement.
25th December: CONFERENCE & FUNDRAISING
This day is set aside to have dialog with all guests, dignitaries and government officials to discuss on the anniversary theme;''Darantoo Pulaagu Jaŋngo Ngu ko Sukaaɓe han ɓe'' as well as discuss problems facing Fulbe and find means to address them
The night of the 25th will end with an amazing fundraising show with great Gambian and non Gambian artists. Proceeds of this show will be used to support other Fulbe Africa events and help prepare us for the 10th Anniversary.
Don't Miss it!
_______________________________
JUURAGOL AADA HE COSAAN FULƁE YONTI
Dental men Fulbe Africa addanii'en mawningol nyalaande aada he cosaan mbo min mboowi on addande.
Hikka kadi ko he leyru Bowte, balɗe ndu 24-25.
Nyalngu folo oo 24, ko mawninde aada he cosaan Fulbe, maa min ngaddan'on naalaŋkooɓe mawɓe he jaliiɓe.
Nyalngu ɗimmo oo, 25 maamin ngadan'on mawɓe yeewtooɓe ko faati he geɗe keewɗe gila he faggudu haa he aadaaji he sukaaɓe kadi he jaŋnde sukaaɓe rewɓe. Jemma oo maa jaliiɓeɓe mbaal fij haa weeta tawa ko seeɗa yoɓetee heen.
Awa paroɗee ngaree njehen Farafenni, Rowani ko Basse, Awa #Hikka_ko_Farafenni
#Hikka_ko_Jeeri
#HikkaKoFarafenni #HikkaKoJeeri