Guinea: Human Rights Watch denounces a savage repression ten (10) years after the arrival of Mandéla Condé to power, the population continues to mourn their deaths in political violence.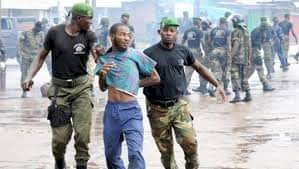 The post-election period in Guinea has been marred by acts of violence and repression that have left at least 42 dead, Human Rights Watch said today. Following the presidential election on October 18, 2020, security forces used excessive force to disperse opposition-led protests in the capital, Conakry.
The main opposition candidate, Cellou Dalein Diallo, was under de facto house arrest, without charge, from October 20 to 28. One of Guinea's main online news organizations was suspended from October 18 to November 2, and internet and telephone networks were severely disrupted or even suspended between October 23 and 27. These measures hampered the ability of residents to communicate, obtain information or report on current events.
"The brutal actions against protesters and others in Conakry took place against a backdrop of widespread repression that weakened the credibility of the elections," said Ilaria Allegrozzi, senior central Africa researcher at Human Rights Watch. "The authorities should restrain the security forces, investigate and punish those implicated in abuses, and all political leaders should urgently call on their supporters to refrain from violence. "
Some protesters assaulted and threw stones and other projectiles at police and gendarmes, killing at least six members of the security forces, according to the government. One person died in intercommunal violence, while dozens of others were injured in clashes in the capital, at least 29 of them by security forces who opened fire or threw tear gas canisters.
On October 24, the electoral commission announced that incumbent President Alpha Condé had won the election with 59.5% of the vote, which saw him start a controversial third term. Diallo, who announced on October 19 that he had won the election, rejected the official results on October 24, raising allegations of electoral fraud and calling for mass protests. On October 30, he lodged an appeal with the country's constitutional court. On November 7, however, that court confirmed Condé's victory, dismissing allegations of fraud, and Diallo has since called for further protests and civil disobedience.
Between October 17 and November 13, Human Rights Watch conducted telephone interviews with 70 people, including 32 victims and witnesses of violence, 15 relatives of the victims, three medical workers, three journalists, 10 members of opposition parties, five representatives of civil society and two representatives of local authorities in Conakry. Human Rights Watch also reviewed government statements and analyzed photographs and videos to corroborate the accounts of victims and witnesses. On October 27, Human Rights Watch reported its findings to Albert Damatang Camara, the Minister of Security and Emergency Preparedness, asking him to answer specific questions in a telephone interview.
Minister Camara rejected the allegation that the security forces killed people, arguing that "many were killed by bullets fired from 12-gauge rifles, hunting rifles, which are not used by our forces. of security ". He said "21 people have died since October 19 in post-election violence, including six members of the security forces and three children, the youngest of whom was 14." He added that 18 of the 21 victims had died in Conakry, and the rest elsewhere in the country, and that at least 18 of the victims had been shot dead.
Human Rights Watch found no evidence that weapons were used by civilians during the violence. Camara's statements diverged from many testimonies, including that of a person who took part in protests in the Hamdallaye 2 neighborhood of Conakry on October 19. "We were expressing our joy at Diallo's victory when a police vehicle rushed in and threw tear gas canisters to disperse us. People fled and the police shot at us, "the man told Human Rights Watch. He said Thierno Nassirou Sylla, 13, had been shot in the face and "died instantly".
Human Rights Watch spoke with another witness to the murder and a family member of the victim, who confirmed that Nassirou was shot by police. Human Rights Watch also reviewed post-murder video footage and photographs of his body.
In a statement dated October 22, Camara said violent protesters burned down a military post in the Niariwada neighborhood of Conakry between 19 and 21. According to authorities and media, violent protesters blocked a train in the Sonfoniyah district on October 23 and killed three gendarmes and a soldier who escorted him to the port of Conakry. According to authorities, opposition protesters killed the four members of the security forces with machetes and other bladed weapons.
Camara told Human Rights Watch that investigations are underway to identify those responsible for the killings. On October 31, the Conakry appeals court prosecutor said 325 people had been arrested in connection with the post-election violence. Human Rights Watch is not aware of any members of the security forces among them.
National Internet disruptions have made it difficult for Guinean and international journalists and human rights activists to report and report on the violence. Netblocks, a civil society organization working in the areas of digital rights and cybersecurity, reported on October 23 "major disruptions at Orange, the main mobile operator, with national connectivity recorded at only 9% ordinary thresholds ", as well as partial restrictions for other operators, including MTN and Cellcom," limiting access to the main social networks and communication platforms ". Authorities have not released any public statement about the restrictions, which Netblocks said lasted from October 23 to October 27.
On October 18, the High Authority of Communication (HAC), the regulatory body for Guinean media, suspended a news site, Guineematin.com. "I was not even informed of the decision," Nouhou Baldé, the founder of this website, told Human Rights Watch. "It happened right after our live Facebook broadcast of the counting of the ballots. This decision has no legal basis and constitutes a form of intimidation against independent journalism. On November 2, the HAC announced the lifting of the suspension.
International law and the Guinean Constitution protect the rights to freedom of assembly and expression and prohibit the disproportionate use of force by law enforcement officials. The Basic Principles on the Use of Force and the Use of Firearms state that those responsible may only use force in proportion to the gravity of the offense committed, and that the intentional use of lethal force is not is allowed only when it is strictly unavoidable to protect life. International human rights standards demand that Internet restrictions be both necessary and proportionate. The United Nations Human Rights Council has condemned measures taken by governments to prevent or interrupt Internet access and online information.
The United States, France and the European Union have all condemned the post-election violence in Guinea, urging authorities to launch credible investigations and ensure justice and accountability. The African Commission on Human and Peoples' Rights called on the Guinean security forces to respect the right to life and physical integrity provided for in the Charter of the African Union and to avoid resorting to lethal force to restore public order. Speaking from a military camp in Conakry on October 30, President Condé urged security forces not to carry lethal weapons during protests and to act in a "civilized" manner.
On October 25, during a visit to Conakry, a joint delegation of the United Nations, the African Union and the Economic Community of West African States (ECOWAS) urged the Guinean authorities to withdraw the security forces deployed around the residence of opposition leader Diallo.
"While tensions are still high and more protests are planned by the opposition, the Guinean authorities should be vigilant to prevent further abuses," Ilaria Allegrozzi concluded. "Guinea's regional and international partners should support efforts to establish accountability and urge the government to bring perpetrators to justice. "