Femi Adesina: Only Buhari can disagree with Obasanjo and survive it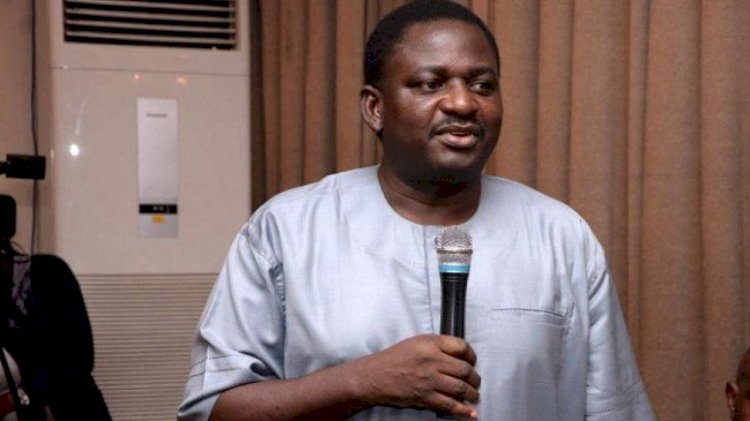 Femi Adesina, presidential spokesman, says only President Muhammadu Buhari can disagree with former President Olusegun Obasanjo and survive it.
In an article entitled, 'Buhari's applause for Akinwumi Adesina' on Thursday, Adesina likened Obasanjo to "world powers", adding that "you have every right to shiver when they come after you".
Buhari and Obasanjo are former military heads of state who were later elected to the highest office in the land. The latter kicked against the former's re-election bid in 2019.
The spokesman said Akinwumi Adesina, African Development Bank (AfDB) president, "fought the good fight" to be re-elected for another term of five years despite the odds.
"If America and some other world powers come after you, you have every right to shiver in the broiling sun," he said.
"It's like Chief Olusegun Obasanjo telling you to dismount from the horse of leadership in Nigeria. Only a Muhammadu Buhari can look him straight in the eyes, and say; No sir. And survive it.
"Akinwumi Adesina fought the good fight for the AfDB diadem, won in brilliant fashion, and is already inaugurated for a second term in office. But it was not a sudden flight. It took grit, guts and God."
The presidential aide said Buhari received the news of Adesina's victory while presiding over a national council of state meeting which had Ibrahim Babangida, former military ruler, in attendance.
"We were at the National Council of State meeting on August 27, 2020. Incidentally, it was the 35th anniversary of the military coup that ousted the then Major General Muhammadu Buhari from power as head of state," he said.
"The man that struck in the palace coup was the Chief of Army Staff, Gen. Ibrahim Badamasi Babangida.
"Babangida ruled for eight years, and left in less than glorious circumstances. Buhari, overthrown and detained for over three years, coasted back to victory as civilian president 30 years later.
"As elections approached, America suddenly decided it didn't want Adesina as President again. It told him to get off the horse. Different things began to happen.
"America kicked. It called for an independent, external party to look into the findings of the panel. It was done, and Adesina came forth shining as gold again."