Excluded from a charity match for an "inappropriate joke", Yaya Toure apologizes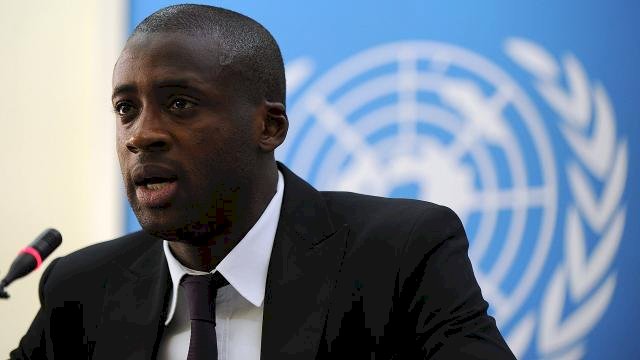 The former midfielder of Manchester City and Barcelona, Yaya Toure, apologized for an "inappropriate joke" that earned him to be excluded from the Soccer Aid Charity match this weekend.
The 37-year-old player was invited to leave the team's hotel after publishing content on a group discussion message that offended the other team members. He admitted his mistake and regrets the negative advertising who turned away from the Sunday fundraising game for the UNICEF Children Charities in Old Trafford reports The Mirror
"I would like to apologize to all those involved in soccer "It was supposed to be a joke, but I lacked consideration for the feelings of the other participants. That being said, I deleted the jokes in minutes and I immediately apologized with all the members of the group.
We meet for a good cause and it turns away the goal of the game that is to bring everyone together to help children around the world. It's sad to see an inappropriate joke that I have made the attention that should be entirely devoted to the beauty of the charitable game. Whatever the circumstances, I want to assume full responsibility.
I am an adult man who should not be engaged in such jokes. I'm really sorry for my mistake and I wish everyone with Soccer Aid Sunday to raise awareness and raise funds for important causes, "he expressed to apologize following this clumsiness. A soccer spokeswoman AID told the Journal The Sun: "Inappropriate content has been shared in a private group text. The message was quickly removed and complete excuses were presented at all. Soccer Aid for Unicef discussed the foregoing with the person involved and he decided not to continue to participate in this year's event. Although it is a trial error,
it was felt that the behavior did not correspond to the values of the event and its cause, and it was the right thing for him to take a step back from the game this year. Has he explained arguing the removal of Yaya Toure. Married and father of three children, the former Ivorian footballer was quick to delete the message he had posted in the group before apologizing. But a number of his AID soccer teammates have been
offended and ITV made the decision to remove it from the show. The match rises millions of books for UNICEF each year and boasts of a mix of former professionals and celebrities.
wiwsport.com