Bah Oury indicates to ECOWAS and the AU the way forward to be 'legitimate, credible and restore the confidence of the people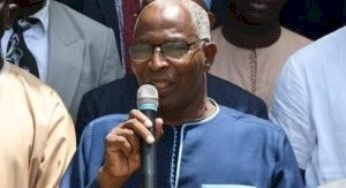 The former minister of national reconciliation invites the presidents of the ECOWAS and African Union commissions to take measures to fight against bad governance, which he considers to be the real source of instability in African countries .
According to Bah Oury, 'respect for the principles enacted in a fair and equitable manner in all circumstances confers true authority. Procrastination and partisan attitudes in favor of the perpetrators of bad governance destroy credibility. President Jean Claude Brou must rethink ECOWAS ''.
For the former minister of national reconciliation, '' This anger is legitimate. It deserves to be heard and recognized in order to change the governance paradigms of African states which in turn are sinking into failed state situations. Our responsibility is challenged while there is still time.
He asserts that '' the context of a multidimensional crisis prevailing in West Africa, of which the poor quality of governance is a main factor which must lead to rethinking our political and institutional environment. Innovative resolutions, protocols and charters are passed, but the application remains a dead letter.
The president of the Union of Democrats for the Renaissance of Guinea (UDRG) calls on the leaders of ECOWAS and the AU to restore the image of their institutions to restore confidence to the African peoples.
He remains convinced that "President Brou and Moussa Faki of the African Union (AU) must urge ECOWAS and the AU to renew themselves to be legitimate and credible organizations to restore confidence to the African peoples. Because young Africans are desperate and angry ".
Pathé BAH, for VisionGuinee.Info
00224 621 77 38 52/bahpathe17@gmail.com