As The World Watches The Genocide In Palestine
Your column on Saturday in Daily Trust refers, please. It is totally unnecessary for the world to be watching Israel ethnically cleansing not only Gaza…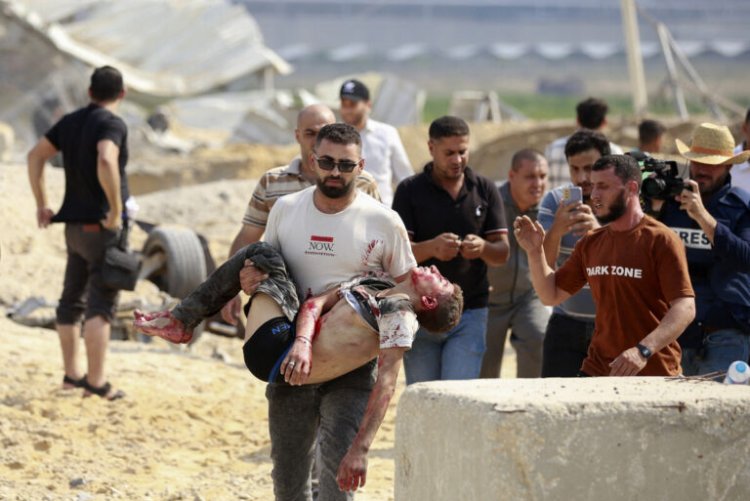 EDITORS NOTE: Graphic content / A man carries away a Palestinian killed in an Israeli airstrike at the Erez crossing between Israel and the northern Gaza Strip, on October 7, 2023. – Palestinian militants have begun a "war" against Israel which they infiltrated by air, sea and land from the blockaded Gaza Strip, Israeli officials said, a major escalation in the Israeli-Palestinian conflict. (Photo by BASHAR TALEB / AFP)
Your column on Saturday in Daily Trust refers, please. It is totally unnecessary for the world to be watching Israel ethnically cleansing not only Gaza but also the whole of Palestine. This is the beginning of the Zionists' Greater Israel project.
What they are doing is not something to watch for Arab leaders. There are over 200 million Arabs. And they are one of the richest subregions of the world. Also, they have oil and gas, which are highly sought after commodities in the world.
All their leaders need to do is: 1) boycott all American (including Canadian) and European as well as Israeli goods and companies 2) put embargo on Middle East oil and gas to America, Europe and Israel until Israel not only, i) stops their genocidal war in Gaza and by extension the rest of Palestine, ii) completely rebuild Gaza to pre-October 7 position, iii) vacate all illegal settlements and iv) restore the Palestinians' right to return to their homes denied since 1967.
The trouble with the Arabs is that they are not united. Only they can stop this Israeli madness and only such drastic and concerted actions can achieve the result. Pass this to Arab you know!
I. Sodangi from Kaduna