We Have No Problem With Our Hosts , No Attack On Igbo Collecting PVCs –Aguene, Lagos Ndigbo President?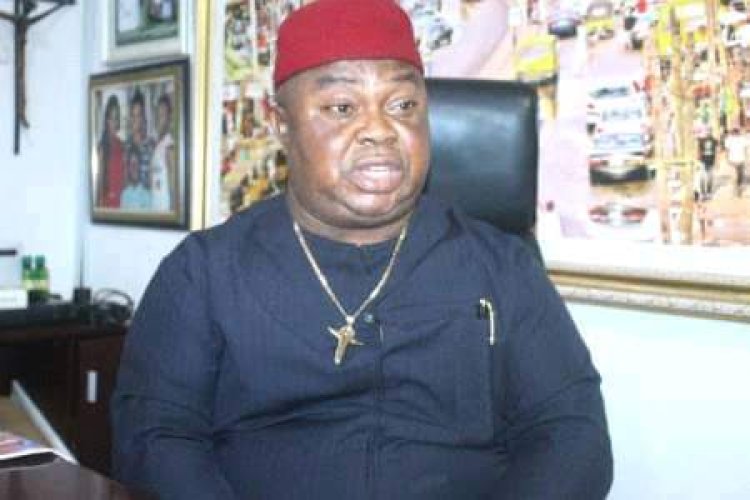 The President, Lagos State chapter of Ndigbo, Chief Solomon Aguene, in this interview with VICTOR AYENI dismisses the alleged attack on the Igbo collecting permanent voter cards in Ojo and Festac, and speaks on the relationship between the Igbo and their host community
In a press statement you released recently, you said there was no attack on the Igbo who wanted to collect their permanent voter cards in Ojo and Festac as was widely reported. Can you please clarify what really happened?
I am the leader of the Ndigbo in Lagos and also the apex leader as the Ohanaeze President and I can say that there was no attack. This is a political time when people trivialise critical issues because they want to get to a position or because they want to collect money from politicians. So I think it is the opposition or anyone that is against other parties that is behind it. I have said this also in the interview I had with Arise TV and I can assure you that we don't have any problem with our host community.
The Peoples Democratic Party in their reaction has pointed at the All Progressives Congress as being responsible for the reported attack on the Igbo, alleging that the violence was a means of sabotaging a free, fair and credible election in 2023. What would you say to this?
As I said earlier, the Ohanaeze Ndigbo as a socio-cultural organisation is highly apolitical. About the issue of fighting between the two political parties, I don't want to know, I can only tell you about my people in Lagos.
But from all indications and based on all our investigation, there are people who may have problems with individuals which could be their own brothers or sisters or another tribe but to say that the Igbo or Yoruba want to attack Ndigbo in Lagos is not true.
There are some Igbo who are of the opinion that voting in the forthcoming election is a fruitless exercise probably because they want to secede, and there are others who are willing to partake in electing their leaders, as an apex leader of the Igbo community in Lagos State, what is your piece of advice for the Igbo?
The Ndigbo cannot say they are not going to vote and then complain about PVCs. That shows you none of this is true. But if we begin to look at the condition and the news reports from social media – where anybody can say anything – then the country will not move forward. To seek their PVCs on one hand and then on the other, complain that they are not going to vote should make one ask, why are they looking for the PVCs in the first place? It's funny.
As the leader of Ndigbo in Lagos, I have made it compulsory that PVC would serve as our identification card. If you don't have it, you can't benefit from anything, either from individuals or politicians who form our meetings and some of our welfare initiatives as a socio-cultural organisation and as the umbrella and mouthpiece of our people.
So definitely, we must vote and we must have our PVCs because like our ID cards, they will also serve other purposes. That is why I have made it mandatory and none of our members as an Ohanaeze can benefit from us financially without possessing their PVC.
Do you think the Igbo community in Lagos is supporting any particular political candidate or party?
In Lagos, I can tell you that the majority support the APC because we didn't get it right initially. You know, I was the first president to advise my people, even though we are not a political party. I said that since the country has changed to the level of a political party that is financially assisting every association and creating opportunities, we must show our support because we are under them in terms of finance, and you can't do anything without finance. You understand? Even your private business, you must finance it for it to move forward.
So for me as a leader, I navigated everybody to go through the APC because we had not got it right before when we were still small, but now the Igbo are benefitting in government and we have moved closer to the government of the day since I have been living in Lagos from 1981 till date.
So for me, that is my piece of advice to the Igbo. But you can't force someone; you cannot take a horse to the sea and force it to drink the water, but I will say that the majority and in fact, the most influential of the Igbo in Lagos are for the APC. I may not know about our national political identity, but I can speak of Lagos where I reside and where we have the majority of Ndigbo. We know what the government is all about in Nigeria in almost every state. We know about the ruling party here so we must follow the party.
Do you think the majority of the Igbo outside Lagos are mobilising or obtaining their PVCs for Peter Obi of the Labour Party?
Peter Obi is not contesting the governorship of Lagos State. He is at the national level. He is not the only candidate and Ndigbo alone cannot make him the president. We make sure that his campaign promises are what the people want to hear but he is the one that will navigate his way to become the president of the country.
Since last week when the presidential candidates became known, there has been a bashful trade of words on social media between supporters of Peter Obi, many of who are assumed to be Igbo and those who support Tinubu (Asiwaju Bola Tinubu, the APC presidential candidate). How can the tension be calmed?
Social media cannot determine the president of this country. What determines the president are PVCs and a free and fair election process. That is where I stand. I don't stand on social media campaigns because I don't believe in them.
I think if you want to spend money for people to know that you will actually do something, I don't think social media is the right place. But if you want to save funds, you can go on social media.
We should not make trouble out of troubles. People are talking on social media and it should not be entirely believed. Do you believe every news report on social media? People should have their own PVCs. That is my idea of a 'strong social media.'
I cannot give my vote to anybody because they do very well with social media campaigns. I would like to hear your campaign promises, go to your record when you were a governor or senator or president at first tenure or vice president. These are the areas I have to scrutinise before I can make my decisions. But social media is about who comes first and who counters; it is for those who are watching, not for me who wants things to change for the better.
What is your take on the failure of the APC and PDP to zone the presidency to the South-East?
Even if they zone the presidency to the South-East, despite the fact that everybody had the chance to win the APC candidates but look at the number of votes the South-East aspirants had not to talk of others. That should tell you that they are not yet ready to become the president. If APC or PDP aspirants have such a low figure as 10 votes, tell me how are they going to become the president of the country?
Copyright PUNCH