Sarkin Fulani: Strange Turn Of Events After 50 Years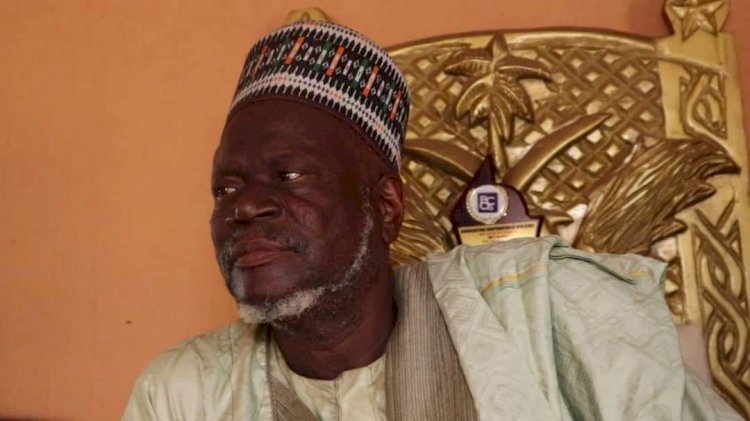 Seriki Fulani of Oyo, Saliu Abdulkadir: 'I have not hurt any of them
Sarkin Fulani of Oyo, Saliu Abdulkadir, pauses with his chin resting in one hand. He looks upwards as though uttering a silent prayer. Recalling the bewildering series of events, including the quit notice issued by Sunday Igboho, the violent mob action a week later and his flight from Igangan, Oyo State, to Ilorin, he goes quiet and closes his eyes. His losses amount to five hundred million Naira (N500,000,000), he tells me. There is no security presence of any sort or form around him in Ilorin, despite the quit notice and the violence that came upon his household in Igangan.
The Fulani leader is thinking of employing a local vigilante group in his part of Ilorin, to provide security around him. No official of the Oyo State government has visited him or phoned since the events of February this year. He lost everything in the attack. The clothes he is wearing were given to him by a friend, and feeding his family has been difficult. Sarki Abdulkadir opens his eyes to develop another point, saying calmly that he puts his trust in Allah. From time to time, he asks his son a question in order to clarify an issue, and the interview continues. Sarki is also the President of Jamu Nati Fulbe, a Fulani socio- cultural organisation based in the South West. His body language, the rise and fall of his voice, the distant gaze in his eyes, and the brief but powerful moments of silence in the room, are pregnant with meaning.
Agitated soul
He speaks in Fulfulde and reverts to Yoruba from time to time. This switch between languages is significant and is not just a sign of fluency in both; it indicates a troubled and agitated soul seeking the precise verbal images to mirror his innocence, and the trauma of the present moment. He speaks neither English nor Hausa. Wearing a yellow baban riga, he is quite regal even though far from his palace in Igangan, Oyo State. His son, Salim Umar, a graduate of political science who is very active on social media, serves as interpreter and sits to his immediate right. This explains why in some of the initial media interviews done with Sarki, he is shown as constantly looking to his right rather than towards the journalist or photographer.
Closing of a cycle
Born in Ilorin, he left for Ibarapa, Oyo State, alongside his parents in the year 1968, arriving at Igangan in 1972. The family settled briefly in various towns along the way, until they got to Igangan after four years. His parents, as well as his grandmother are buried in Igangan. Now, a cycle has closed, and a new one has opened. He is back to Ilorin, the city where he was born. The family left Ilorin seeking pasture for their herds, and they found this in abundance within the Ibarapa North Local Government/Igangan axis of Oyo State where Sarki Abdulkadir remained for fifty years. Sarki always reared his cows within Oyo State for the entire fifty years of his sojourn, attracted by the green grass as well as abundance of water. In 2006, many herders left Ladduga grazing reserve in Kaduna State, and headed for Igangan, seeking pasture for their herds. This is a move similar to the one Sarki's father had initiated several decades earlier. These herders, who had left Ladduga in 2006 for Igangan, were expelled back to Ladduga in February by the mob action. For these herders too, a cycle seems to have closed and another opened.
Salamatu Gorte, a returnee from Igangan now picking up the pieces of her life at Ladduga, recalls that the soil in Igangan is rich, saying that a farmer does not require fertiliser for their crops. Igangan itself is one of the two gazetted grazing reserves in Oyo State, the other being the Wasimi Ayegun grazing reserve. Birth in Ilorin means that Sarki and his family belong to the group of Fulani known as Darikeji, a Fulfulde word which refers to Fulani from Kwara.
AK-47
Turning to his recent experience, Sarki Abdulkadir says "Presently, many Yoruba people do not want to see or acknowledge the Fulani, that's the major problem. That's why they created different lies and started to broadcast the same through the media. They could do this because they own the media including newspapers, radio and the TV stations. Different media outlets were used to broadcast hate against the Fulani. That's the major method used to tarnish the image of the Fulani. Another problem is the fact that there is no trust among the tribes in Igangan, and the majority no longer fear the Lord. The worst thing is that they are saying that herdsmen are moving about with AK-47s while rearing cattle. That is a lie. There is nobody in Nigeria who has seen Fulani rearing cattle with AK-47. Nobody has seen this."
Next is the allegation that Fulani are involved in the spate of kidnapping in Igangan. Sarki says "The allegation that Fulani are the ones involved in kidnapping in the area is not true. On the day Sunday Igboho came to give the ultimatum, he said that the Fulani are the ones kidnapping people around Ibarapa. I was about to respond to that remark when his boys began firing guns in the palace and the discussion came to an end."
Foreign herdsmen
On the claim of foreign herdsmen being present in Nigeria, he explains: "They are saying Fulani are coming from Niger Republic, Cameroon, Chad, and entering Nigeria, but none of these people has entered the South West yet. They are not in the South West.
There are no foreign herdsmen with their herds in the South West." He adds that, "Anybody rearing cows in the Southwest is not a foreigner; he is a Nigerian. Most of the Fulani in the South West are from Kwara State. It is very common for herdsmen from Kwara to cross to Oyo where there is better pasture."
He shows that years ago, he stopped the practice by herdsmen going about with dane guns in Ibarapa and Igangan. They used these to hunt while rearing cattle. Ardo or the Sarkin Fulani can play a role in keeping bad Fulani out of a community, he emphasises, adding that this approach has worked in Igangan.
Abdullahi Tashi, Ardo of Nyola Pulaku, Ladduga grazing reserve, who lived at Agambala, Igangan, for four years, provides insight into Sarki Abdulkadir's activities at Igangan. According to him, "When the Sarki receives a visitor, he shows them where they will settle, and tells them about the laws of the land. He encourages them to follow the laws. He says that they should not steal or be involved in any crime, and that they should not allow their cows to enter the farms and cause havoc. He is always doing this."
Grand plan
On the expulsion from Igangan, Sarki explains: "They see me as a rich man, and as a threat to them. They used the crises as an avenue to chase all the Fulani from the South West in order to achieve a Yoruba nation. People are afraid of me in Oyo State. The reason is that if they want to start all these things, I will be going round to the palaces and the leaders in my peace-building activity, talking about what is happening, encouraging the security agencies to come to the aid of the Fulani communities and to restore peace. They decided to deal with me decisively before tackling the other Fulani leaders. It is all part of a grand plan."
He recalls that on the eve of Igboho's visit, Amotekun, the security outfit operating in states of the South West, visited Igangan. His words: "Amotekun went to a neighbouring ruga, killed the Ardo Alhaji Usman Dahiru, and his two sons. Dahiru was conducting a wedding for his sons on the day of the attack." Sarki Abdulkadir reported the attack to the relevant authorities. He did his best to see that the persons involved were arrested. He went to Seyi Makinde, the governor of Oyo State, who advised him to speak with the deputy governor.
At this point, Sunday Igboho visited Sarki, accused the Fulani of being involved in kidnapping in the area, and issued a quit notice. Upon receiving the quit notice, Sarki wrote a petition to the DSS, the police CP, and other government officials. In the build-up to the expiration of the quit notice, fourteen policemen were sent to guard Sarki's palace on three daily shifts, but this could not prevent the mayhem that ensued in Igangan on January 22.
Mob action
Mayhem came upon Igangan at 4:15pm. According to Sarki Abdulkadir, "All of a sudden, the mob arrived, and just before this happened, all the policemen and soldiers guarding my house disappeared. The mob burnt my house, killed people and goats, destroyed motorcycles. At the point when they started burning houses, I escaped. It was a Friday and all members of my family were present, having been reassured by the statements of the Oyo State governor and the area commander. The mob burnt the jumat mosque, veterinary clinic and the milk collection centre. They burnt neighbouring houses and nine vehicles within the palace. In addition, N1.5m cash was carted away. Fulani attire used for festivals, copies of the Quran and documents were also destroyed. Two hundred and seven (207) cows were stolen from the palace over the subsequent days." Sarki says that even after some persons were killed, their bodies were burnt by the mob.
Yoruba cattle rustlers
He argues that Yoruba are guilty of rustling cows of their fellow Yoruba in Igangan. "Their own people started to rustle their cows. Their butchers were stealing cows of their fellow yoruba. At a point, the police were arresting Yoruba cattle rustlers who are indigenes of Igangan, and began to kidnap people in 2018. With my help, in conjunction with the police and the vigilantes, the police arrested seven people in Igangan, and these were made up of both Yoruba and bad Fulani. They are still in prison in Ibadan." He said.
Sarki Abdulkadir explains that, "Their fellow Yoruba will rob people, and dress like Fulani. People will not know the difference. Majority of the Yoruba okada riders and butchers in Igangan can speak Fulfulde and Yoruba fluently. In addition, some of them have adopted Fulani nicknames. This is the true situation on the ground."
Curiouser & curiouser
A curious turn of events played out recently. In March this year, Pa S.A. Olawuwo, a PDP chieftain, was arrested and detained in Ibadan, a prime suspect in the gruesome murder of Dr. Fatai Aborode in Igangan. The murder of Aborode had earlier been blamed on 'criminal herders' as well as on the expelled Sarkin Fulani, pitting the Yoruba and Fulani groups in Igangan against each other.
The murder of Hajiya Sherifat Adisa, the owner of Subawah oil in Ibarapa, was also blamed on Sarki Abdulkadir. However, the police recently made some arrests in this respect. These arrests have turned the finger of suspicion away from Sarki.
Garlands for Sarki
Over the years, Sarki has developed a reputation as a peace builder in Oyo State, and he has created a system which helps to gather intelligence within and around the Fulani community. His words: "I have always held meetings with the Fulani telling them to report any new person seen in their areas of residence. I always help the Fulani, and if any serious problem is going to arise between them and their host communities, they come to me and I intervene. I always settle these cases to the satisfaction of all parties."
He is Sarki several times over. In 1992, as a consequence of his peace-building efforts, he was installed as Sarkin Fulani of Ibarapa by former governor Kolapo Ishola. Oba Lamidi Adeyemi, the Alafin of Oyo, installed him as Sarkin Fulani of Oyo, in recognition of his efforts at maintaining peace between Yoruba and Fulani in the state. He was also appointed Magaji of Iganganland in 1998. He is also the Jagunmolu Adini of Ibarapaland, and has also received more than twenty chieftaincy titles from traditional heads in the area.
'I have not hurt anyone'
Sarki Abdulkadir adds that over the years, both Yoruba and Fulani were united in Igangan and they lived in peace. However, this situation has changed. His words: "Up till now, they cannot say what I did that led to the mob attack. To the best of my knowledge, I have not done anything to either hurt or injure any of them."
He closes by saying, "As an old man, I cannot start work all over again. If the government can do something to help me, that will be good. If government will not do anything, certainly the Almighty will help. Sarki opines that, "If truth returns to Ibarapa, peace will return. All perpetrators should be arrested and all investigations concluded. On its part, government should tell the truth about the case."
Sarki believes that he still has some cows somewhere in Igangan, and recently asked cattle herders in the community to search for them. His children had businesses in Igangan, but these were destroyed in the violence. Life seems to be starting all over again for Sarki and his family. His body language rebels against what looks like a gang-up in Igangan, but he is silent. The room becomes silent once more. His calm endurance of the situation may emerge from Pulaaku, the much cherished code of honour among the Fulani, which instils courage, patience, nobility and endurance in the individual.
The trip to Ilorin & Kaduna was supported by The Pastoral Resolve (PARE).