One last take on Pantami: A little PR guide by Abdulhamid Al-Gazali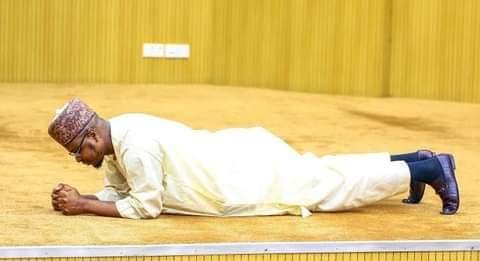 Not everyone who is under as much pressure as Isa Ali Pantami is now can devise a level-headed communication strategy to comprehensively and coherently respond to the torrents of allegations brought up against him. In fact, this is one of the major aims of the overwhelming pressure, to prevent you from attaining self-composure and self-articulation, especially so for someone like Pantami who is obviously too emotional. I came under the greatest pressure of my life playing football, or as I can remember. And our unlettered, but undoubtedly adequately streetwise coach, devised one of the best pressure management models for us, seemingly pedestrian but has also really proven useful for me in the few crisis communication projects I found myself in. When we come under so much pressure from opponents, the coach, a very criminally-minded man I must add, would signal to any one of our teammates to just lie down on the pitch and pretend to be injured or sick for a minute or two, so that the referee would have no option but to force the match to go for a break.
The ruse serves as a very effective therapy for our players to refocus, rest and reboot. It helps us to respond to the mounting pressure in better ways, and mostly also destabilizes the opponent's plan of aggression, with the dare many times fleeing them for all of the remainder of the match.
More than responding to the allegations, it seems what Pantami needs is to focus on restoring his sense of composure, articulation and judgment first! Because this has fled him, almost every step he took in defense, by himself or by delegation, turns out to be an even bigger blunder. Or, how else would you describe his delegation of Kabiru Kabo--and then Kabiru Kabo's own officious acceptance of a task, we now believe in hindsight, too herculean for him--to speak to Channels TV on his behalf? I am even very happy for Pantami because of Garba Shehu's reaction, which is in quality almost useless but in function very useful. It is useful for Pantami only because it is useless in form. For the meantime, at least before the next blunder, as it seems helpless, attention will shift to analyzing or reacting to Mr. Shehu's, what, many condemn as tasteless statement, affording him some respite. That could even be intentional for I know Shehu's experience in this business is enough to know how to use its resources deliberately wrongly for a reason.
I think at a time when everything you say can be used against you, if you must really talk, supposing your talkativess has reached a state of helplessness, then you should not respond to questions from journalists, else you will feed into the agenda of your "traducers". From this incident and his last year's public raw with Abike Daberi on Twitter, Pantami and Kabo his shield-man have both proven to be inexperienced about media relations or unlucky to ever perform st their best. Almost every question by a journalist is a booby-trap, baiting you to fall, and it is even more so in a case such as of Pantami now. For example, when conducting interviews, whenever I suspect someone may not want to tell me his age or date of birth, I would not even bring the subject, but come from behind to set a trap.
*Question 1: Why is it that during your days, most people enrol to school almost in their adulthood? Did you do the same, because most of your peers who I had interviewed did so?
Answer: Not so for me. I entered school at six.
Question: Oh, very rare. But you must have trekked several miles to school every morning, I guess, because it seems there were fewer schools then.
Answer: Well, there was XYZ Primary School not very far from us, for me. It is not far from us.
Question 3: "Oh, you are lucky, luckier than our former president, Jonathan. But which year was that, whose regime?"
Answer: 1970. Gowon was the president.*
The man, estimatedly, is born 1964!
Having been delegated by the minister to be his spokesman--another of his malpractices: arbitrary and self-indulgent deployments--you would think Kabo is a better speaker, more eloquent and more savvy with the media, but: