LEIGH WATER TO COMMENCE OPERATIONS, BRINGING SERVICES TO THE PUBLIC.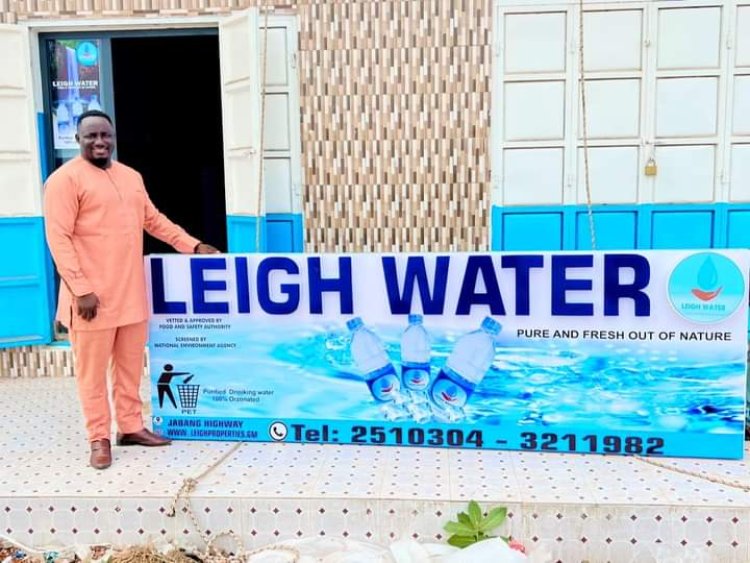 As the CEO, it is with great pride and boundless excitement that I announce our forthcoming launching of Leigh Water on October 2nd , 2023, marking the commencement of our services to the public.
As a Gambian-owned enterprise, we stand as a beacon of national pride, poised to provide you with the finest in water products and services. Our journey symbolizes the synergy between our commitment to quality and our love for this beautiful nation.
As we anticipate the commencement of our operations, Leigh Water wishes to extend a heartfelt assurance of the exceptional services that await you in the future. First off, you can expect top-notch quality. We're not just selling water; we're delivering a promise of purity and reliability that you can count on.
At Leigh Water, our state-of-the-art facilities and advanced technology are poised to revolutionize your water experience. We're on a mission to reshape industry norms and explore the limitless possibilities.
However, we're more than just a product; we have a heartfelt commitment to Gambia. Our focus extends beyond business to nurturing our young talents and fostering opportunities that fuel progress and innovation.
We're committed to empowering our youth. We're not just in business; we're here to contribute to our nation's development actively.
On October 2nd, it's not just an opening; it's a celebration of Gambian potential. Expect an event that mirrors our dedication to excellence, innovation, and unwavering commitment to a brighter future for the Gambia.
Together, we'll build a stronger and more prosperous Gambia.
Musa Leigh.
CEO, Leigh Water