Death Toll In Turkey, Syria Earthquake Hits 3,000
A major earthquake struck Turkey and Syria on Monday, killing more than 3,000 people and flattening thousands of buildings as rescuers dug with bare hands…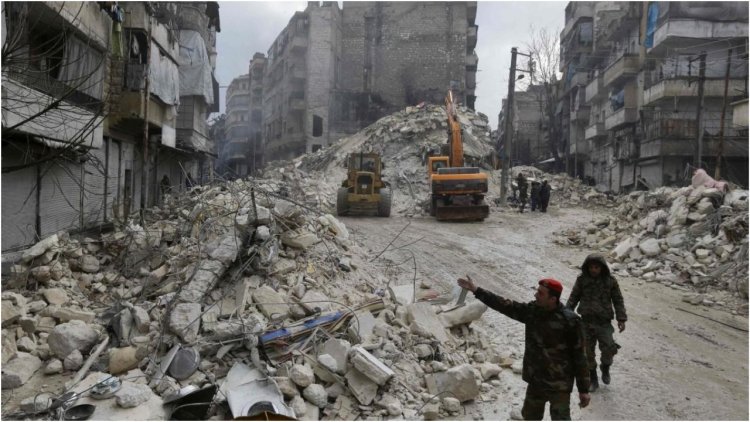 Syrian rescue teams search for victims and survivors in the city of Hama on February 6, 2023. (AFP)
A major earthquake struck Turkey and Syria on Monday, killing more than 3,000 people and flattening thousands of buildings as rescuers dug with bare hands for survivors.
According to AFP, Dozens of nations have pledged aid since the 7.8-magnitude quake which hit as people were still sleeping and amid freezing weather that has hampered emergency efforts.
Multi-storey apartment buildings full of residents were among the 5,606 structures reduced to rubble in Turkey, while Syria announced dozens of collapses, as well as damage to archaeological sites in Aleppo.
"That was the first time we have ever experienced anything like that," said Melisa Salman, a 23-year-old reporter in the southeastern Turkish city of Kahramanmaras.
"We thought it was the apocalypse."
The head of Syria's National Earthquake Centre, Raed Ahmed, called it "the biggest earthquake recorded in the history of the centre".
The initial quake was followed by dozens of aftershocks, including a 7.5-magnitude tremor that jolted the region in the middle of search and rescue work on Monday.
"We managed to save three people, but two were dead," said Halis Aktemur, 35, in Turkey's southeastern city of Diyarbakir after the quake that was felt as far away as Greenland.
In the southeastern Turkish city of Sanliurfa, rescuers were working into the night to try and pull survivors from the wreckage of a seven-storey building that had collapsed.
Despite temperatures falling below zero, frightened residents in the city were preparing to spend the night on the streets, huddling around fires to warmth.
At least 1,293 people died across Syria, the government and rescuers said.
Turkish government officials reported another 1,762 fatalities, putting the combined total at 3,055. Turkey declared seven days of mourning for the dead.
Monday's first earthquake struck at 4:17am (0117 GMT) at a depth of about 18 kilometres (11 miles) near the Turkish city of Gaziantep, which is home to around two million people, the US Geological Survey said.
Denmark's geological institute said tremors reached the east coast of Greenland about eight minutes after the main quake struck Turkey.
Meanwhile, President Muhammadu Buhari, in a statement yesterday by his spokesman, Femi Adesina, said Nigeria was ready to offer its full support in any way possible as a steadfast friend to Turkey and Syria.
The president wished those injured a speedy recovery.
He sent condolences to the governments and people of Turkey and Syria, and those who lost family and friends in the devastating earthquake.
He assured that the prayers and thoughts of Nigerians were with the many affected by the severe disaster and its aftershocks.