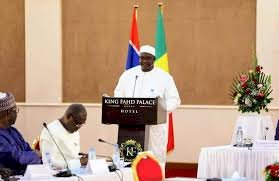 The second edition of the biennual Presidential Council Meeting between The Gambia and brotherly nation Senegal concludes today with President Barrow and his Senegalese counterpart President Sall, co-chairing the final session.
In his statement at the opening of the concluding session, President Barrow said together with his brother President Sall, they have committed to raise the bar of the bilateral cooperation between the two countries, adding that the strategic partnership offers a model for emulation in the sub-region and a beacon of hope for continental integration.
''This assembly provides the political leadership of the two countries with an avenue to dialogue on key issues of common interest and take concrete decisions on them for the mutual benefit and socio-economic development of our two peoples.'' President Barrow
Reflecting on the first Presidential Council Meeting held in The Gambia two years ago, President Barrow said both countries have resolved to reinforce defence and security matters as well as trade and free movement of people and services. He added that although there's been registered success at appreciable levels, more needs to be done to enable both countries to fully and successfully implement the programmes agreed jointly.
He highlighted the joint inauguration of the Senegambia Bridge as one of the success stories to promote trade ties between the two countries. ''The bridge enables free traffic flow between the northern and southern parts of both The Gambia and Senegal. It enables farmers and traders to reap the benefits accruing from the ease of movement and, to a larger extent, facilitates increased sub-regional trade in pursuance of our ECOWAS integration objectives.''
Touching on the burden of transport of people, good and services between the two countries, President Barrow said he is impressed with the constant engagement of the political leaders and senior officials of the two countries which are being managed and yielding results concerning the border closure.
President Barrow used the opportunity to inform the gathering on the progress being registered in his government's reform agenda, notably the Truth Reconciliation and Reparations Commission (TRRC) and the Constitutional Review Commission (CRC) as well as the Security Sector Reform, which he commends Senegal for the pivotal role it plays through ECOMIG.
For President Barrow, The Gambia and Senegal are two nations with a shared history and a bond that makes the development aspirations of both countries closely linked.
''I welcome our resolve to heighten the bilateral relations between us and to broaden multilateral collaboration through South-South Cooperation arrangements.'' He concluded.