Seydou Diallo is a young Senegalese entrepreneur living in Metz in France and a baker of his state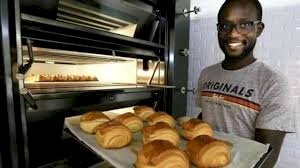 Born in Thiès (Senegal) into a family of twelve brothers and sisters, he had to take responsibility very early on. In 2009, Seydou left his country for France.
It will be the IUT Cormontaigne in Thionville, then the University of Metz. He dreamed of chemistry and biology, it will be industrial engineering and maintenance, then physics and chemistry
.
It was during a chemistry class, in the 3rd year of university, that he discovered the fermentation of bread. Intrigued, Seydou decides to do a bakery internship. And there, it is love at first sight.
"My father passed away in 2013. To provide for my family, I combined studies and odd jobs, then I bought a bakery in Senegal. I quickly realized that I didn't know how to handle it. "
Seydou then decides to give up the benches of the university for a bakery CAP then he continues a year and a half of studies within the National School of milling and cereal industries in Surgères (Charente-Maritime).
In October 2019 he bought an old bakery which he renamed "Boulangerie Poulard" (inspired by the Fulani word Pulaar and the old wheat Poulard) in Metz, where he made homemade products.
A just INSPIRING journey