SENEGAL, DEMOCRACY IN PERIL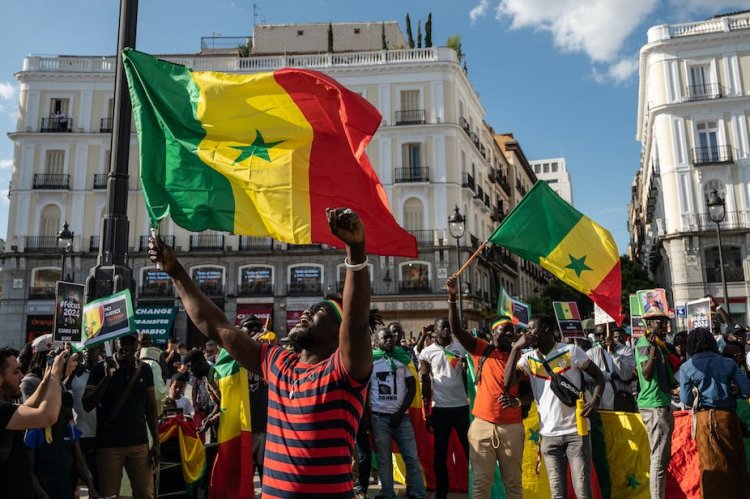 Protestors gather in Madrid to demand justice and democracy in Senegal. Photo by Marcos del Mazo/LightRocket via Getty Images on
05/06/23

- Sadiq Ibrahim Dasin
If there is one country in West Africa that I would love to visit time and again, is Senegal, a beautiful country. Like Nigeria, Senegal became independent in 1960. But unlike Nigeria, for 63 years Senegal has been a democracy while Nigeria was illegally ruled by soldiers from 1966-1999 with an interregnum from 1979-1983.
In some of the main cities and towns I visited in Senegal, Dakar, Kaolack (Kaulaha), Touba, Mbacke, Diourbel (pronounced Djurbel), Tivaouane (pronounced Tiwawan) and Mbur, the streets are neat and inviting.
It is very sad that this peaceful and beautiful country was hit by three days of violent protests last week in which 16 people died.
I tried calling out my friends in Dakar, but I couldn't reach them until today because internet and mobile telephone service was cut off for sometime in the city and elsewhere.
The reason for the riots is that opposition candidate, Ousmane Sonko, who is set to contest the February 25, 2024 presidential election in the country against the incumbent president Mackey Sall, was sentenced to 2 years imprisonment which would have him locked up until after the election.
Senegal is a model in democracy in West Africa. President Macky Sall became president of the country in April, 2012 when tenure of the president was 7 years which he served until 2019. He was re-elected in 2019 for another 7 years that would end in 2026.
However, in 2016, with the consent and approval of the president, the country's parliament abrogated the 7 year term as being too long, amended the constitution as a result of the referendum held in 2016 and reduced the tenure of the president to two terms of 5 years each.The next presidential elction will take place on February 25, 2024.
But despite having served as president from 2012-2019 (7 years) and is serving from February, 2019 to end in February, 2024 (5 years), president Macky Sall is insisting that the 7 years he served ( 2012-2019) was under the old constitution and is therefore entitled to contest again for 5 years to complete his second term under the 5 year provision in the new constitution.
The opposition is, on the other hand, insisting that his first 7 years (2012-2019) and his five years (2019-2024), a total of 12 years should be enough.
This is what lawyers consider as constitutional crisis, a situation in which a major political dispute cannot be clearly resolved on the basis of a particular constitution or established practice.
We have had similar situations in Nigeria when Bukar Abba Ibrahim and Rev. Jolly Nyame served for 2 years (1992-1993) under Gen. Babangida (when no constitution was in effect) and served for 8 years under the 1999 constitution with President Obasanjo; a total of 10 years which president Jonathan tried to do but failed since the 1999 constitution was silent on his eligibility to contest in 2015.
The position of president Mackey Sall could be argued both ways. Twelve years as president should be enough as argued by the opposition. But if 7 of the 12 years were served under an old constitution, it could still be argued that President Mackey Sall can contest in 2024 under a new constitution.
My concern is that with Guinea, Mali and Burkina Faso under military rule and seats of parliamentarians from these countries in the ECOWAS parliament declared vacant, Senegal, a democratic model in the subregion, must not derail. It is a beautiful country where no soldier has ever staged a military coup since their independence in 1960. The opportunity should be provided.