Nato activates nuclear and chemical defence elements amid growing Russian threat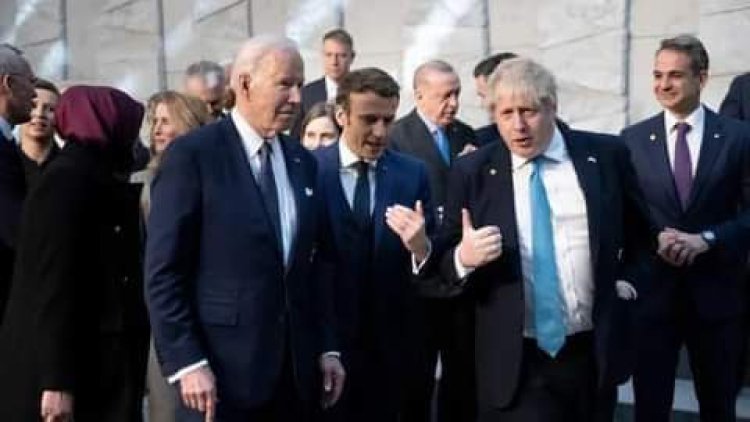 Nato has activated its chemical and nuclear defence elements and is "taking measures both to support Ukraine and to defend ourselves", Nato Secretary-General Jens Stoltenberg has said.
A joint statement from Nato leaders, released following an emergency summit, said: "Nato allies will also continue to provide assistance [to Ukraine] in such areas as cyber security and protection against threats of a chemical, biological, radiological, and nuclear nature."
Mr Stoltenberg said Nato's senior military commander had "activated Nato's chemical, biological, radiological and nuclear defence elements and allies are deploying additional chemical, biological and nuclear defences".
The move has been made amid concerns Russia could engage in chemical and nuclear warfare against Nato.
Asked whether the move was based on credible intelligence, Mr Stoltenberg said: "We are concerned, partly because we see the rhetoric and we see that Russia is trying to create some kind of pretext - accusing Ukraine, the United States, Nato allies - for preparing to use chemical and biological weapons."
Any use of chemical weapons "will totally change the nature of the conflict, it will be a blatant violation of international law and it will have widespread consequences", he added.
It came after President Volodymyr Zelenskyy pleaded with Nato leaders to provide just 1% of the alliance's planes and tanks, in order to give Ukraine "100% protection" from Russian invaders.
Prime Minister Boris Johnson, ahead of an emergency Nato summit, said Vladimir Putin had already crossed a "red line" and Western leaders would be discussing "what more we can do to help the people of Ukraine protect themselves".
Mr Zelenskyy told Nato leaders in a video address that Russia was "using its entire arsenal" when attacking Ukraine and his country needs "military assistance without limitations" to defend itself.
"One percent of all your planes, one percent of all your tanks...will give us, just like you, 100% security," the Ukrainian leader said.
He also pleaded with Nato for anti-air and anti-ship weapons, asking: "Is it possible to survive in such a war without this?"
"It feels like we're in a gray area, between the West and Russia, defending our common values," Zelenskyy said. "This is the scariest thing during a war - not to have clear answers to requests for help."
Nato has so far resisted providing Ukraine with fighter jets as it wants to avoid the appearance of being involved in the conflict with Russia - a move Putin has said would have consequences.
But a US official said his country was considering providing Ukraine with anti-ship missiles.
"We have started consulting with allies on providing anti-ship missiles to Ukraine," the official said. "There may be some technical challenges with making that happen but that is something that we are consulting with allies and starting to work on."
Prime Minister Johnson, asked whether the use of chemical weapons by Russia would be crossing a red line that forces Nato to act, told reporters in Brussels that "Putin has already crossed the red-line into barbarism".
He went on: "It's now up to Nato to consider together the appalling crisis in Ukraine, the appalling suffering of the people of Ukraine.
"To see what more we can help the people of Ukraine to protect themselves, see what more we can do to tighten the economic vice around the Putin regime."
He said the UK was on Thursday providing 6,000 new defensive missiles, consisting of anti-tank and high explosive weapons, and £25 million in financial backing for Ukraine's armed forces.
Mr Stoltenberg said the alliance is "determined to continue to impose costs on Russia to bring about the end of this brutal war".
He added that Nato must boost its defenses and "respond to a new security reality in Europe".
After the meeting he said Nato had "agreed that we must and will provide further support to Ukraine.
"We will continue to impose unprecedented costs on Russia and will reinforce allied deterrence and defence."
The alliance formally approved the deployment of new Nato battle groups in Bulgaria, Hungary, Romania, and Slovakia.
A joint statement was released following the Nato summit, in which the alliance called on China to "abstain from supporting Russia's war effort in any way, and to refrain from any action that helps Russia circumvent sanctions."
It added: "We are concerned by recent public comments by PRC officials and call on China to cease amplifying the Kremlin's false narratives, in particular on the war and on Nato, and to promote a peaceful resolution to the conflict."
It comes after the UK imposed sanctions on 65 more Russian entities and individuals, including Foreign Minister Sergey Lavrov's step-daughter Polina Kovaleva in a further bid to starve Putin's war machine of finance.
A Russian paramilitary organisation thought to act as Putin's private army known the the Wagner Group, which has reportedly been tasked with assassinating President Zelenskyy, has also been sanctioned.
President Zelenskyy on Wednesday addressed the world in English video clip for the first time, telling viewers: "Come to your squares, your streets. Make yourselves visible and heard."
"Say that people matter. Freedom matters. Peace matters. Ukraine matters."
In a separate address in Ukrainian, Mr Zelenskyy said his country is "expecting serious steps from NATO, European Union and the G7".
Prime Minister Johnson is understood to have asked allies at the Nato summit to question whether they have done enough to support Ukraine against the Russian invasion.
According to a UK official, the PM said: "We all want Putin to come to his senses, put his tanks into reverse.
The official added: "The heroism of the Ukrainians has fundamentally changed the geopolitics of Europe...
"People will ask, did we do enough? I don't think we can deny them in their moment of agony We have the means and they have need."
Source. ITV News