Meet Banky Gambia's New Rasta Presidential Candidate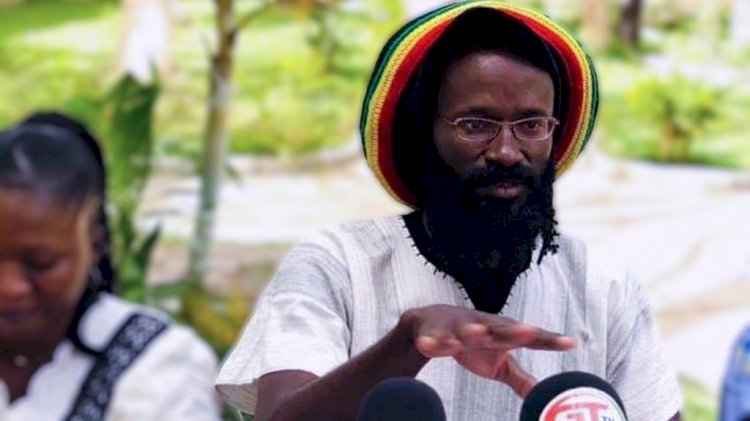 He took the entire Gambian population by surprise when he announced yesterday, 26th his interest to join the presidential race this December. Bankole Yao Jojo Ahadzie (Banky) 43 is a Gambian born in the capital city of Banjul.
Many were surprised because Banky is the first Rasta Presidential candidate in Gambia and has vowed to make sure marijuana is legalized when he is voted in power. This raised mixed reactions from Gambians and many asking if the Rastaman can win elections.
He told journalists yesterday. "Don't judge me by my appearance, don't judge me by my hairstyle, listen to what my manifesto is and how I can change lives when elected."
Banky said his intention to run as an independent candidate is anchored on five cardinal pillars.
He lists them to be free education, one-term presidency, creating jobs with decent salaries, development by us for us, and the empowerment of 1 billion Gambian dalasi fund in sports.
The dreadlocks politician vowed to serve one term presidency if elected into office come December 4th, 2021 elections.
He said his key development priority is to empower the youths, this he believes is doable through changing the narrative.
"A lot of youths have given up the system going through the 'back way' illegal route to Europe. The young people want change and they could not see anyone to identify themselves with. We are here to change the narrative."
On cannabis legislation when a reporter asked what's his stand on it, he said he will endorse its legalization.
As expected, he got endorsed by the Rasta community in The Gambia, not only was he accompanied by some Rastafarian friends to the press conference but most of them took to social media showing their support to the presidential candidate. Many among the older generation in Gambia, believe Rastafarianism is all about smoking weed and associate them with crimes and evil. This is why Banky and his team feel this is an opportunity to change the narrative.