Eitan Biran: Italy asks Israel to arrest cable car boy's grandfather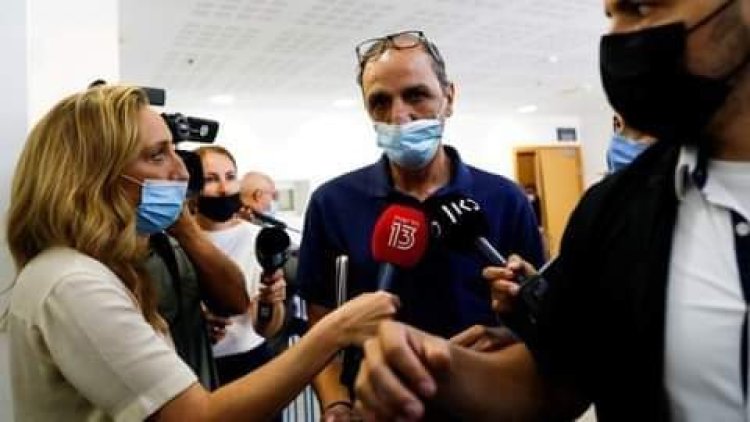 Authorities in Italy have issued an international arrest warrant on kidnapping charges for the Israeli grandfather of a boy who was the sole survivor of a cable car crash.
Six-year-old Eitan Biran's parents, brother and two great-grandparents were killed in the accident in Italy in May.
His paternal aunt, who lives there, was given guardianship by an Italian judge.
But in September Eitan was flown to Israel by his maternal grandfather, Shmulik Peleg, without her permission.
Mr Peleg insisted that his actions were legal and in the boy's best interests, but Italian prosecutors opened a kidnapping investigation and Israeli police questioned him over the matter.
Last month, an Israeli court ruled that Eitan had been "unlawfully" removed from his aunt's care and that he should be returned to Italy. Mr Peleg is appealing against the ruling.
Eitan had been living in Italy for several years before the accident that killed his brother Tom, his parents Amit Biran and Tal Peleg, his paternal great-grandparents, and nine other people.
After the boy was discharged from hospital in June, an Italian judge granted custody to his paternal aunt, Aya Biran-Nirko, an Israeli-born doctor who lives in the Italian city of Pavia.
On 13 September, Eitan was taken out for the day by Mr Peleg, who had visitation rights.
He travelled by car with Eitan to the Swiss city of Lugano and then flew with him to Tel Aviv in a private jet, using the boy's Israeli passport.
On Wednesday, prosecutors in Pavia accused Mr Peleg and another Israeli citizen identified as Gabriel Alon of "kidnapping offences, abduction, detention of a minor abroad, and wilful non-compliance" with a judge's orders, Israel's Haaretz newspaper quoted a statement as saying.
They alleged that Mr Alon was "hired" to assist in the abduction and that he drove Mr Peleg and Eitan to Lugano, where they chartered the private jet at a cost of €42,000 ($48,500; £36,000).
"We are waiting to see what will happen at the international level, i.e. the response of the Israeli authorities to the international arrest warrant," Prosecutor Mario Venditti told Italy's ANSA news agency. "Then we will proceed with the closure of the investigation and the request for a trial."
Mr Peleg's lawyer told Reuters news agency he had already filed an appeal against the arrest warrant. There was no immediate comment from Mr Alon.
Source: BBC