BETWEEN BANDIT AND TERRORIST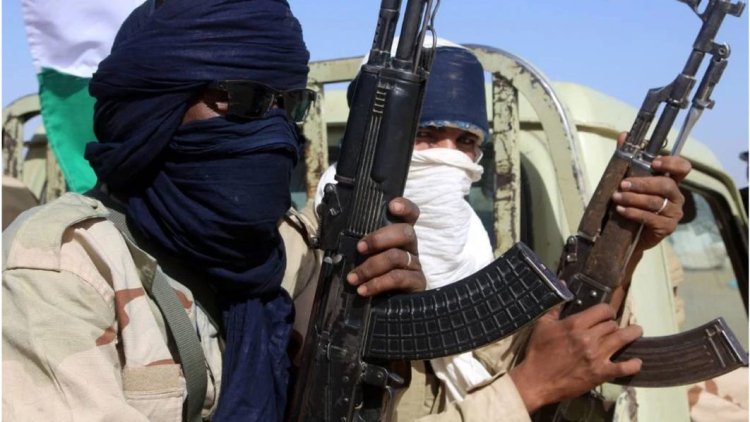 By Mahmud Jega
The latest clamour in Nigeria, which has been gathering speed like a tornado in the past month, is for the Federal Government to declare the bandits that have infested so many Northwestern and Northcentral states as terrorists.
At the weekend, the Speakers' Forum, the umbrella body of 36 state House of Assembly Speakers, said at the end of its meeting in Katsina that Nigeria will find lasting solution to its security challenges if the Federal Government declares bandits and kidnappers as terrorists.
A day earlier, Kaduna State governor Nasiru el-Rufa'i said he had been urging President Buhari for years to declare the bandits as terrorists. Declaring bandits as terrorists, he said, "will allow the military to attack and kill these bandits without any major consequences in international law."
Three weeks earlier, the Senate passed a resolution urging the president to declare bandits as terrorists and wage total war against them, including bombing all their locations. The Senate resolution also urged the president to declare known bandit leaders wanted and track them down for arrest and prosecution.
What is difficult there? With one stroke of the pen, the President can declare bandits as terrorists. I however doubt if it will make much difference on the ground because even without such a declaration, the military and security agencies are currently waging war against bandits in several states, up to and including bombing their camps.
Maybe a stroke of the president's pen might not be enough. It might require a court of law to make the declaration, as happened in the case of IPOB following a case filed in court by the Attorney General. There a few issues of detail however. Bandits are no different from Boko Haram with respect to indiscriminate killing, raping, kidnapping and terrorizing people in many states. They are in fact worse than IPOB or Sunday Igboho's Yoruba Nation movement in that respect.
Still, if the Attorney General files a suit against the bandits, what will he say is the name of the organization he is seeking to ban? Bandits never gave themselves a name. It was the media, in connivance with security agencies, that gave them the name bandits.
Bandits do not even have one organization that they can give a name to. Instead they are organized in hundreds of small to large gangs, probably identified only by the names of their leaders. The court Registrar may not have enough space in his case file to accommodate the names of all bandit leaders if and when Attorney General files his case,
Bandits are not registered with Corporate Affairs Commission, so banning them hardly amounts to much. IPOB probably has bank accounts where thousands of people donated money to its cause. I doubt if anyone donates money to bandits. They don't have any political goals that anyone can support. All the money they get is from ransom, looting of markets and cattle rustling.
Boko Haram at least gave itself a name, two names in fact, Jama'atul Ahlis Sunnah Lidda'awati wal Jihad led by Shekau and Islamic State West Africa Province led by Mamman Nur and al-Barnawi, all three of them late. Neither name was registered with CAC and no bank in Nigeria will open an account in either name. By banning them and declaring them as terrorist groups, government ensured that anyone found to belong to or to donate money to them could face serious legal consequences, including summary execution. Boko Haram, ISWAP, IPOB and Yoruba Nation however all found ways to launder money.
As for bandits, I doubt if any of their funds are laundered through the banking system. Deeply rural, mostly nomadic, functionally illiterate and totally averse to urban life and its pleasures, bandits deal strictly in cash. From a few thousand naira as ransom money some years ago, they steadily advanced until they now demand hundreds of millions of naira as ransom.
Where do they hide such monies and what do they spend it on? These days one cannot buy any substantial property in cash. Bandits can only expend ransom monies in local markets, on weapons, and blow the rest away on frivolous things. Why has Central Bank of Nigeria [CBN] not yet printed special, electronically detectable naira notes to be used for the payment of all ransom?
Technology giveth and technology taketh away. The coming of mobile phones enabled mass kidnap for ransom. Substantial advance in CBN's cashless policy should ultimately make it impossible for any victim's family to pay ransom in cash. Bandits will have to make do with ransom payment through bank transfer, where bank clerks are lying in wait.
Right now, anyone identified as Boko Haram or ISWAP is liable to be shot at sight. The same thing applies to bandits, so what difference will it make whether or not they are called terrorists? These days, Nigeria Air Force [NAF] probably conducts more bombing runs against bandits than it does against Boko Haram and ISWAP. The precision of these strikes suggests that Super Tucanos are at work, though NAF never says so.
IPOB and its supporters are so afraid of NAF bombing that a story was planted in the media at the weekend that as part of conditions for selling Super Tucanos to Nigeria, US Government prescribed that they must not be used outside the North. That will be a very strange prescription. When the US Government sold F-16s to Israel, did it prescribe that they should only be used in Galilee, West Bank and Golan Heights but not in Sinai, Gaza or southern Lebanon?
Security agencies regularly release figures of bandits killed in Zamfara, Katsina, parts of Niger, Birnin Gwari, southern Kaduna State and eastern Sokoto State. Nigerians receive these figures and the accompanying pictures of mangled bodies with delight. Not one of our busybody NGOs has gone to court to question why bandits are being killed when a court has not declared them to be terrorists.
My fear is that declaring bandits as terrorists could encourage traditional rulers and "statesmen" to turn up at the trial of their leaders in order to show solidarity. At IPOB leader Nnamdi Kanu's court appearance last week, a video circulated of one lawyer howling, saying that an ex-governor cum traditional ruler was not accorded the respect he deserved when he turned up in court to show solidarity with a man standing trial for treasonable felony.
A traditional ruler turns up in court to show solidarity to a man accused of committing treason, yet he expects the state to accord to him "due respect." Maybe that is why government is not in a hurry to declare bandits as terrorists, lest some statesmen turn up in court in solidarity with them.
VIEW FROM THE GALLERY in 21st Century Chronicle. Monday, October 25, 2021.