Adji Sarr Claims Elsewhere Ousmane Sonko Wanted To Have Sex With Her From Behind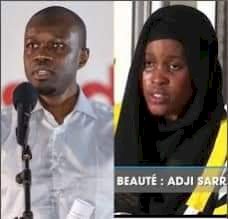 Adji Sarr has claimed Ousmane Sonko told her 'I have never seen a woman like you' and tried to have sex with her from behind.
Sarr told reporters in Senegal on Tuesday Sonko first raped her last year in an incident where the politician threatened to take her life if she doesn't oblige to his demands.
She said Sonko returned to her massage parlour after the first incident then had a Jacuzzi bath.
She said: "On that day, he wanted to have sex with me from behind. I told him 'uncle, was it not you who told me you would not hurt me again?'
"He told me, 'God doesn't just want me having sex with you from behind but every other sex.
"[He told] 'If I could have the satisfaction from my wives, you would not see me here, all the places that I have been to, I have never seen a woman like you'."