122 Boko Haram/ISWAP Terrorists Surrender to MNJTF - Force Commander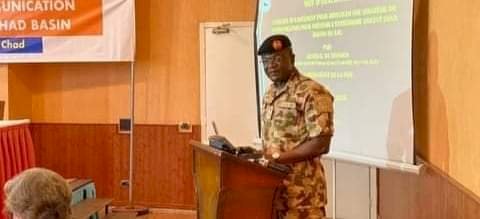 Atleast 122 Boko Haram/ISWAP fighters have surrendered to the Multi National Joint Task Force (MNJTF) in the Lake Chad region in the last three months, the Force Commander, Major General Ibrahim Yusuf has disclosed.
Yusuf disclosed this on Monday at the ongoing inception workshop to articulate a regional communication strategy to prevent violent extremism in the Lake Chad Basin organized by the MNJTF and the UNDP in N'Djamena, Chad.
The commander said the deployment of kinetic and non-kinetic strategies is what resulted in the terrorists' surrender, in addition to the public awareness campaign conducted by the Force to prevent indoctrination and recruitment by Boko Haram/ ISWAP and also to empower populations to resist the negative narratives and deconstruct the terrorists' ideologies.
He informed that the MNJTF have facilitated the formal transfer of the surrendered fighters and their family mebers to their respective national authorities, and the process of physical transfer,will be completed by the end of this month.
Yusuf highlighted the need for a comprehensive, regional and non kinetic strategy to complement the largely kinetic approach of the MNJTF to tackle the security threats in the Lake Chad Basin.
He noted that the communication strategy of the MNJTF is not robust enough to achieve the desired result, which informed the ongoing inception workshop.
"It was this realization that motivated the force to engage with the lake chad basin commission and the UNDP on the need to articulate a comprehensive and robust strategy based on an all inclusive participatory methodology.
"This workshop is relevant to the attainment of the mandate of the MNJTF. It is pertinent to state at this point that the ultimate objective of this workshop is to produce a framework for defeating Boko Haram/ISWAP. One of the major strands of this non kinetic approach is strategic communication.
"Consequently, our expected outcome of this strategy when it is finally produced include: resistance and rejection of Boko Haram/ISWAP activities; drastic reduction in the capacity of the terrorists to radicalize and recruit innocent members of the public; as well as an increased number of terrorists defecting and surrendering whithin the Lake Chad Basin", the commander said.
The Borno state governor, Babangida Zulum in his goodwill message, expressed optimism that the workshop will address the salient issues, and proffer workable strategies to counter Boko Haram, and violent extrimism.
Zulum said it was also still important to continue to create adequate awareness in order to hijack the negative impacts of violent extrimism as propagated by the terrorists.
The governor however assured of the support of the Borno state government in the implementation of the strategies that will emerge from the workshop.