Ooni Of Ife Leads Yoruba Obas To Endorse Tinubu
The Conference of Yoruba Obas has unanimously endorsed the presidential candidate of the All Progressives Congress (APC), Asiwaju Bola Ahmed Tinubu for Saturday's presidential election,…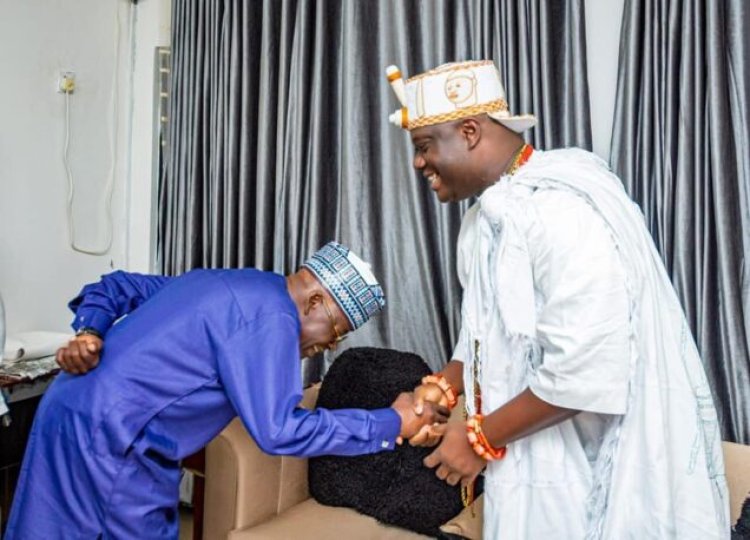 The Conference of Yoruba Obas has unanimously endorsed the presidential candidate of the All Progressives Congress (APC), Asiwaju Bola Ahmed Tinubu for Saturday's presidential election, noting that the former Lagos State governor is eminently qualified to lead Nigeria.
The traditional rulers of the Yoruba people from Ekiti, Lagos, Kogi, Kwara, Ogun, Ondo, Osun and Oyo states, disclosed this in a communique issued after their meeting last at the International Conference Centre, University of Ibadan, Oyo State.
It was learnt that the traditional rulers were satisfied with Tinubu's presentation during the meeting.

Part of the communiqué read, "They acknowledged Asiwaju Bola Ahmed Tinubu's solid democratic credentials and unwavering commitment to the entrenchment of democracy in Nigeria."
On his part, the Olugbon of Orile-Igbon and Vice Chairman, Oyo State Council of Obas and Chief, Oba Francis Olushola Alao, added that "The meeting was unique and symbolic towards the unity of the Yoruba speaking state because it goes beyond southwest which includes Kogi and Kwara.
"It's a clear endorsement of Asiwaju Bola Ahmed Tinubu as a result of his excellent track record and great achievement which put him above other candidates as the only personality that would bring unity, fairness and justice to the Nigeria system".
The meeting, which was attended by first-class kings and chiefs from all the six states in the South West as well as Yoruba-speaking parts of Kogi and Kwara, affirmed their faith and support for Nigeria's unity, peace, prosperity and progress as well as pledged to support the democratic process based on free choices according to universal adult suffrage freely exercised by the people.