FG Inaugurates $11.5million NSIA-LUTH Cancer Centre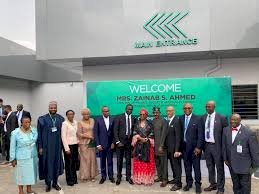 The Honourable Minister of Finance, Budget and National Planning, Mrs. Zainab Shamsuna Ahmed yesterday commissioned a state-of-the-art training and administrative building at the Lagos University Teaching Hospital (LUTH) Cancer Centre in Lagos to support an enabling environment where medical professionals can receive training.
Speaking during the launch of the project, which the NSIA in partnership with LUTH; undertook the conceptualisation, development and establishment, Ahmed said the high technology investment would stem the tide of medical tourism so that Nigerians suffering cancer disease would not need to travel abroad to get treatment.
According to her, the commissioning of the Nigeria Sovereign Investment Authority (NSIA) – Lagos University Teaching Hospital (LUTH) Cancer Centre (NLCC), which would treat 80 cancer patients daily, would reduce medical tourism even as it would also attract cancer patients from across West African sub-region to access care in Nigeria.
The NSIA, Nigerian investment institution established by the NSIA Act 2011, committed US$11.5million in capital towards the establishment and operation of the centre, to be duplicated in other teaching hospitals across Nigeria. This administration is committed to providing affordable healthcare for Nigerians and this facility ensures that there won't be a need to travel abroad to receive world class cancer care.
Since 70% of cancer deaths in the world occur in low- and middle-income countries, the World Health Organisation (WHO) recommends one linear accelerator per million population and the centre now provides 1 brachytherapy and 3 external radiotherapy machines and a modern chemotherapy suite. Meanwhile Nigeria had one functioning machine for its 180 million population.
The training and administrative centre complements the NLCC's primary strategy of offering in-country cancer treatment as it aims to ensure that knowledge gaps in clinical techniques are bridged; continuous skill development of NLCC staff; adequate environment for research; training opportunities for resident and trainee clinicians across the country; and there is sufficient office space for NLCC's staff.