Benue: Herdsmen Paid N100m Fines In 3 Months – Miyetti Allah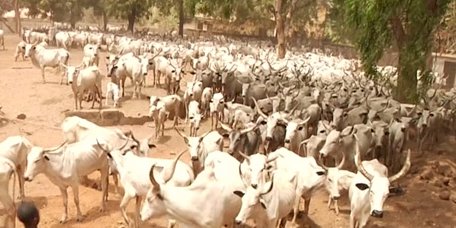 Abbas Jimoh
Thu Apr 01 2021
The Miyetti Allah Kautal Hore, the Fulani socio-cultural association, has said that some arrested herders in Benue State paid over N100m fine in compliance with the state's anti-grazing law.
The National President of the association, Alhaji Bello Abdullahi Bodejo, and National Secretary, Engr. Saleh Alhassan, said this while speaking with reporters in Abuja on Thursday.
"Between January and March this year, Benue State Government has collected over N100m as fines and penalties from innocent Fulani pastoralists, especially in the Benue-Taraba and Benue-Nasarawa borders."
Bodejo said the major problem facing Fulani pastoralists is the injustices ranging from killings by tribal gangs, negative anti-grazing laws that have emasculated their means of economic livelihood and outright expulsions by some state governors who issued quit notices.
He also said there were organised killings by vigilantes, supported by some state governors.
Asked about what they are doing to stop the injustice, Bodejo said since they are not the government, they can only sensitize the people on the need to live peacefully in the communities they find themselves.
'Only gov't can provide security'
He said, "The issue of providing security is the responsibility of the government, this is the primary responsibility of any government to protect the citizens and we believe that our people have been failed particularly in protecting their lives and means of economic livelihood.
"What our people are facing is a kind of organised state terrorism our people are facing in parts of the country and you have governors enacting laws to destroy their means of economic livelihood without alternatives being put in place.
"We are really being treated as if we are not citizens of this country and is a deliberate attempt to disenfranchise us and at the end radicalized our youths."
Asked on the allegations by Governor Samuel Ortom of Benue State that their members were responsible for the attack on the governor, he said they have stopped taking Ortom seriously.
He said, "Because his attitude is unexpected of a governor. He has become a specialist in churning out propaganda and profiling of Fulani pastoralists.
"His claim has turned out to be false. Since the time he conceived his wicked anti-grazing law, we started opposing him, and when he enacted the law, we took him to court.
"What Governor Ortom has succeeded in doing with that law is to create a legal monster that he is using to extort our people, through the livestock guard perpetrating all manners of injustices.
"We are still in court and urging President Muhammadu Buhari to call Governor Ortom to order."