COVID-19: Haske Foundation distributes palliatives in Adamawa, targets other places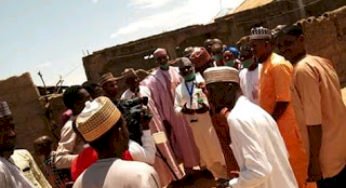 By: Jada Times General News
The AB Haske Foundation, a foremost humanitarian and philanthropic organization, has distributed food and other items as part of palliatives to provide succour to the needy and vulnerable in 21 Local Government Areas in Adamawa State.
The gesture is in line with the series of interventions mapped out by the foundation to ameliorate the plight that people go through, especially at this time of lockdown brought about by the COVID-19 pandemic.
The Director General, AB Haske Foundation, Chaise Bansi, said on Saturday in Abuja, that the distribution of the palliatives commenced in Adamawa South Senatorial District with local governments such as Mayo-Belwa, Jada, Ganye and Toungo being the first to get the intervention.
According to him, a total number of 21 local government areas have been covered so far in less than one week.
Bansi, who represented Alhaji Abdullahi Bashir (Ciroman Ganye), the Chairman and founder of the foundation, said they would continue to do more for the society to bring succour to the needy, noting that they will target other places after Adamawa for such interventions.
"We have studied the situation and found out that with the issue of coronavirus, our people are in need and are experiencing hardship. This is why in addition to our normal interventions, the founder decided to support the vulnerable," he said.
Some of the people provided with the palliatives included the physically-challenged, widows, orphans and other vulnerable persons.