Nigerian Army Construct Bridge and Hospital for Some Communities in Osun State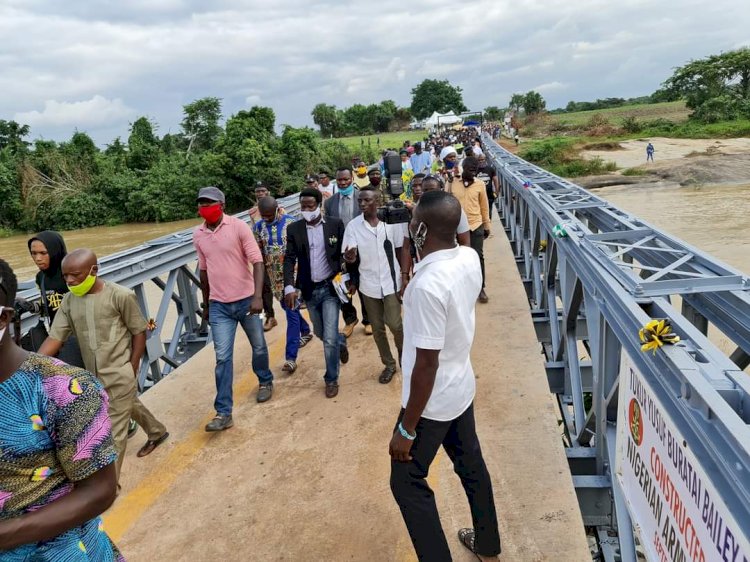 I am indeed very glad to be part of the historic commissioning ceremony of two projects for some communities in Osun State on Monday, September 14, 2020. The projects include a Bailey bridge over the famous Osun River that linked Ede, Owu Kuta and Ikoyi communities and a hospital at Asamu town, all constructed by the Nigerian Army. The two projects were part of efforts to enhance the well being of Nigerians and in line with the Army's improved Civil-Military relations activities, which akin to Corporate Social Responsibility in the corporate world.
One of the projects, a bailey bridge constructed across Osun River, by the Nigerian Army Engineers, was named "TY Buratai Bailey Bridge" to honour the Chief of Army Staff, Lieutenant General TY Buratai. The bridge has wiped the tears of the people of Ede, Owu Kuta and Ikoyi as they had been battling for such project for over a hundred years without success. The socio-economic benefit of the bridge to the communities is most unprecedented.
The other project, is state of the art hospital for Asamu community in Osun State. In addition, a foundation was also laid for befitting staff quarters for the hospital at the town. The large turnout of the illustrious sons and daughters of the affected communities from various parts of the country, speaks volumes of the importance of the projects to the befitting communities. The commendations by eminent personalities to the Army, further testified to that fact.
Personally, I must say that I have also enjoyed the warm hospitality of Oba Ahmed Adekunle Oyelude Makama Tegbosun III (Olowu of Kuta), the government and good people of Osun State. It was also an opportunity for me to meet senior military officers both serving retired that I haven't seen for a long time and good friends such as Alhaji Ismail Omipidan, the CPS to the Governor, State of Osun, Mrs. Kudirat Ibrahim, Sector Commander of RS11.1, of the Federal Road Safety Corps, Osun State and the Honourable Commissioner for Information and Orientation State of Osun, the immediate past President of Nigerian Guild of Editors, Mrs. Funke Egbemode, Kabiru Yayo Ali, Umar Shehu Elleman, Garba Aliyu Zaria and Comrade Oladimeji Odeyemi, among other wonderful people.