The Fulani Business community in The Gambia Presents Food and Sanitary items to First Lady Barrow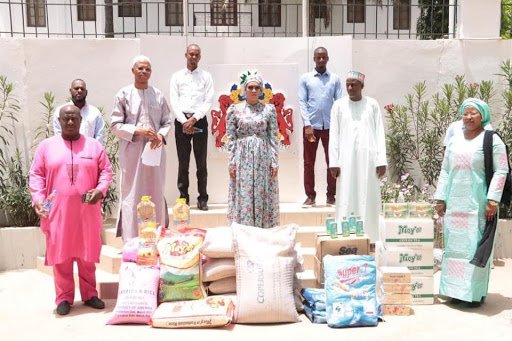 The items were 100 Bags of rice, 25 Bags of sugar, 25 cartons of cooking oil, 10 Cartons of Tea Bags, 200 packets of Soap, 80 Cartons of detergents and a Cheque of 200,000 Dalasis.
According to the head of delegation Alh. Cherno Jallow, The first First lady's benevolence in supporting Gambians, particularly, the less privileged in this pandemic of the COVID19 inspires the association to support her course.
The First Lady in return donated to the Association 25 Cartons of Dates for the Ramadan.
Meanwhile, Her Excellency also presented 25 Cartons of Soap, 50 Bags of Rice, Cartons of Tea Bags, 25 Cartons of Dates, 25 Gallons of Cooking Oil to People Living with HIV and AIDS through National AIDS Secretariat (NAS).
Fatou Badjie thanked the First Lady for always reaching out to the people living with HIV and AIDS in her humanitarian gestures.